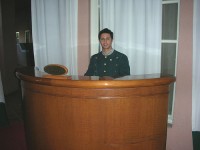 It is not only possible to fight with large business; but to win big in this battle. Are you the owner of small business that is fighting for customers and sales with the big, national chains? How do you win the battle when you know you are outnumbered in every way? I just found out how one such business is doing one customer at a time.
I was at the auto mechanic shop the other day to fix the coolant leakage on my old car. The service I received there made me think what it takes to make a first-time customer come back for the rest of his life. Let me explain…

Now, this shop is what you call a mom-and-pop shop that is battling against large national chains like Valvoline, Midas and others. He doesn't have a large marketing budget or buying power of those chains. What he does have is a personal, one-on-one relationship with his customers and that is the reason why he is not only holding on his own; but thriving. The manager / owner of the shop, Mike, is one reason; and a very important one; why they are doing so well.
I was so impressed by his service and personal touch that I have decided to go back to his shop for all my auto repairs from now on. Let me share some of ways he went above and beyond my expectations. Hopefully, all you small business owners can apply similar techniques to grow your business.
First of all, this shop does only small jobs like oil change and such. He is not expert at doing large repairs such as replacing the radiators or brakes. However, when I told him that I was in time crunch and had to get the car repaired that afternoon he agreed to look at what was needed and do the repair if he could do it. Upon figuring out that the radiator needed to be replaced he agreed to buy the radiator from another shop and replace it even though that is not the type of service he provides.
And this is not all!! There was more pleasant surprise waiting for me. He said it would take couple of hours for the repair; so he offered me the keys of his Acura; so that I could go home and come back when the repair was done. How many of you have experienced this level of service ANYHWHERE!!! I politely declined his offer; but then he offered me a ride to drop me home in his car.
I don't know about you; but why would I want to go anywhere else even if this shop charges me few dollars more. He has got one more customer for the rest of his life. I am sure he has got more pleasant surprises waiting for me when I go for the next visit.
Do you have stories like this either as a customer or manager? Do let me know in the comments below.