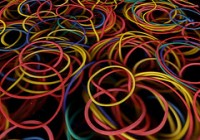 We mentioned in the previous post that in this times of economic uncertainty your business needs to have flexibility to respond to changing market conditions. One of the ways you can do this is by converting as much of your fixed costs to variable as possible.
The reason for converting fixed cost to variable is simple – fixed costs don't change with sales or production; while you can control variable costs in response to change in sales. Monthly rent you pay for the building is an example of fixed cost; whereas the amount you pay to buy raw material to make final product (commonly known as Cost of Goods Sold) is an example of a variable cost.
High fixed cost can hurt you in difficult economic times, such as now, and can even drive you out of business. This is what happened to many of the businesses that simply could not cover fixed cost with the sales plummeting. There are several ways in which you can convert fixed costs to variable. Below we have highlighted them.

Hire temporary workers. Labor cost is probably one of the largest components of fixed cost for many businesses. If you have permanent staff on your payroll you are not only paying their base salary and benefits even when sales are down; but you are also responsible for covering payroll expenses. By hiring temporary help you gain flexibility to reduce the staff easily when the sales is down thus reducing your fixed cost.
Pay hourly wages instead of salary. Even when you do have permanent staff on your payroll you should try to keep them on hourly rates rather than paying fixed salary. You can schedule appropriate number of employees based on the customer traffic throughout the day and week.
Increase bonus tied to sales / profit as opposed to base salary. For those employees who are on a salaried payroll, you should tie more of their compensation to incentives based on sales and profit rather than base salary. That way you do not incur high labor cost even when the business is not doing too well.
Hire outside company to do non-essential work. Rather than hiring your own employees to do all the work you can look into hiring outside firm to take care of them. They can not only do it cheaply; but it also gives you flexibility in how much and when you want to get those services done. You should ensure that you are not giving them work that is core to your business. You should have control over the essential services to ensure quality, consistency and customer service.
Lease buildings and equipments rather than buying. There are number of benefits associated with leasing. By leasing building and equipment you avoid spending large upfront amount. All the expenses incurred in leasing can be written off in the same year for tax purposes; whereas large equipment purchase have to be capitalized and written off over number of years. You also don't need to worry about disposing off the equipment and losing money in the process in case you need to upgrade them or get out of that business. Because of numerous benefits associated with leasing many companies even sell the assets they own to the leasing company and lease them back, thus freeing up the capital.
Utilize free technology. A number of technology for which you had to pay for in the past are now available for free. Google and other companies have number of free products that are replacement for Microsoft mail, Office and other products. Another benefit you can gain from this is that you don't have to pay for maintenance fees since many of these services are provided over Internet through what is called cloud computing.
Let us know if you had any success in lowering your fixed cost by utilizing these or any other techniques.