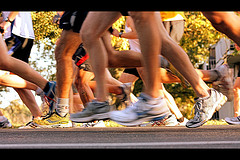 I am raising funds for Leukemia and Lymphoma Society (LLS) by running the Chicago Marathon on October 9, 2011. The money raised will help with the research and support for Leukemia patients. You can find my fund raising page here, where you can also contribute money for Leukemia patients.
My conversations with the running coach and fellow runners have made me think about the similarities between running a marathon and operating a small business. Based on my past experience with owning and operating multi-unit franchise, I can see that there are number of things in common between the two. Both require significant up-front planning, both need persistence along the way and both need support group to cheer you to the finish line.
Let's look at each of these similarities in detail.

Planning
The planning for marathon has to begin at least 4-5 months in advance. No one should expect to run marathon after deciding to do it the day before the race. The planning needs to involve looking at number of aspects including nutrition, strength training and mental toughness.
Similarly, you have to spend considerable time in preparing yourself and family members before you decide to start a small business. You need to look at your finances, understand long-term goals and discuss many other aspects of owning and operating a small business. You really have to ask yourself – "do I have what it takes to operate a small business?"
Persistence
As everyone knows marathon is a long journey, and training for it is even longer. You are bound to encounter ups and downs both during the training and the race. Only those who persist and not giving up in the middle succeed in reaching the finish line.
Running a small business is no different. You cannot expect success overnight. It takes a long time before you can establish the business and make it a success. In both marathon and small business the goal is to reach the tipping point, but reaching to that point requires determination and persistence. Many people give up at the "25th mile" of marathon and small business, just when they are about reach the finish line.
Support Group
Sure you can train for and run marathon alone; but its lot easier if you have the support group to encourage you and cheer you on. This weekend I ran for 6 mile with a companion and it was much less tiring compared to when I ran alone the week before.
You need to have a similar support group to help you along the way when running a small business. No one can expect to know everything about small business, which is why you need to surround yourself with the people who can help you with your questions and concerns. My colleague, Michelle Webster, who is a business broker and an ardent supporter of small businesses, always talks about having a network of people including lawyers, accountants, counselors and so on. These are the people you can go to for guidance, when required.
Above all, you have to have fun along the way in running a marathon and operating a small business. It is as much about journey as t is about the destination. So make sure to have fun whether you are running long-distance race or small business.