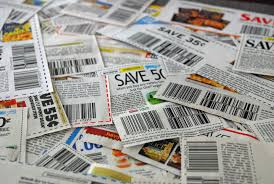 Coupons are dead! Long live the coupons! Some people have argued for some time that coupons have gone out of fashion with today's customers. No one has time to clip coupons anymore. With the advent of internet and Smartphone customers can just pop up digital discounts at the time of purchase rather than looking for and clipping coupons before hitting the mall. The arrival of Groupon and LivingSocial, where customers can buy great deals (sometimes as much as 50-60% off the price) has dented  the use of coupons.
While it is true that digital discounts are gaining more popularity it would be wrong to argue that coupons will disappear in the near future, if they have not already. Every new technology brings with it changes that impacts customer behavior. Coupons are no exception. Customers are looking at them through different lens. They are moving from printed version of the coupons to digital ones.
The arrival of new technology has enabled businesses to come up with different ways in which coupons can be distributed and redeemed. In the most basic form, businesses with the website can include a section for coupons where customers can go and print them before visiting the store. Some entrepreneurs have set up dedicated websites that aggregate coupons from multiple businesses. Websites such as Couponraja.com work with retailers to bring their coupons online and aggregate them by business type and various other parameters. Advanced technology such as GPS embedded in Smartphone allows businesses to provide just-in-time coupons when customers are in the vicinity of their stores.
So why do we think coupons are here to stay? For one, customers want the satisfaction of getting a deal with the use of coupons. When they walk into the store they are looking for that "Wow" factor that tells them they will save certain amount on top of whatever the business is charging. Just look at the failure of JC Penney when they tried to move away from coupons and established fixed price policy. Customers fled in droves and plummeted their sales forcing JC Penney to fire their CEO and reverting back to coupons and discounts. People who use coupons also feel good about themselves thinking that they have outsmarted others by paying less for the same item.
Businesses can also benefit greatly by providing coupons. Coupons allow them to get price sensitive customers without having to reduce the price of permanently. This enables them to charge full price to those customers who do not care for coupons. In addition, coupons bring additional customers who otherwise would not visit your business normally. Coupons are a great way to steal customers from your competitors. In the same fashion, coupons help keep your customers from leaving to competitors. Coupons are especially helpful in promoting new products when customers are unsure about buying them. Offering coupons will make them give it a try.
Next time you are debating whether to offer coupons or not, don't hesitate and go for it. Look into many alternatives available, including digital, and pick few that you think will suit your target customers.
What do you think? Do coupons still have value in this digital age?