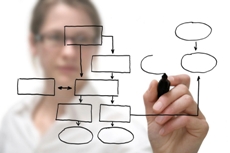 Project management is a must have skill for small business owners as well as managers and executives of large companies. Anyone can dream up new projects without much effort. Only those who can execute those projects stand to succeed in their endeavor. History is rife with examples of projects, large and small, that have either failed or overrun their time and budget because they were not managed well. The managers in charge of these projects did not possess and exhibit necessary skills required to take them to the finish line.
Project management involves number of important skills, both hard and soft. Hard skills include scope management, risk assessment, resource allocation and organization and time management. Soft skills include listening and communication skills, conflict resolution and leadership. Obviously, no one person can be expected to be master of all these skills, but you need to have at least a good grasp on majority of these to finish the projects on time and within budget. Below we explain five most important skills you need to have as a project manager.
Project planning

No project can succeed without having a clearly defined plan. The plan needs to be detailed and well documented for anyone to understand. You need to include schedule, expected expenses, the resources required and the risks involved in the project plan details.

It is also a good idea to write down a project definition, no more than one to three sentences, clarifying the scope of your project. This will keep you on task and prevent random changes or amendments from creeping into the project that can cause unforeseen delays or budget shortages. Change management is one of the crucial elements of the project plan.

Time management

Time management skills are essential for meeting deadlines. It involves not only managing your own time, but also of your team members. You should create a project timeline only after breaking the project down into its component tasks. Each task should be as small as possible such that it can be handled by one person. This will help you avoid the delays that can appear when pesky small tasks inevitably arise. Be prepared to adjust your timeline should unforeseen circumstances arise.

Prioritization

You are responsible for prioritizing tasks as a project manager. Your team is looking up to you to tell them what is important and when it needs to be completed. You need to assign your most trusted resources to work on the urgent and important parts of the project. Providing proper guidance and the deadline and goals will help team members stay on track and ensure completion of project in a timely manner.

Soft skills

Having good technical skills is only half the battle when it comes to project management. Soft skills, which help you communicate well with others, earn their trust and inspire good performance, are the other half. Keep the lines of communication with your team open and remain receptive to feedback from them at all stages of the project. Focus on asking more questions instead of handing out commands — think "How can we do this?" rather than just "Do this." Work on your conflict resolution skills so you can help your team members patch things up when conflicts arise.

Ongoing learning

Whether you're managing your first project or your hundredth, it is always a good idea to learn as much as you can from others. Also, formal education is a great way to develop and refine your project management skills. If you have yet to earn a graduate degree, go back to school online for a Master of Science in Management.

Other options for advancing your project management skills include finding a mentor within your company who has been successful at project management. Seeking coaching from a mentor is an excellent option if you are currently managing a project since you can ask for specific advice about the issue you are facing at that time.

Professional organizations are another way to learn more about project management. They often sponsor continuing education and development classes. They also provide opportunity to network with other project managers.
Project management skills are crucial to succeed as a leader. Start honing yours early and continue to learn throughout your career, and you will be able to complete majority of projects without a hitch.
About the Author: Contributing blogger Daryl Aikens has worked in project management for over 20 years.
Related posts: