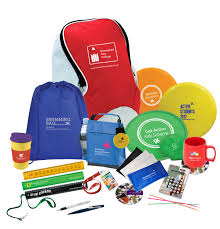 While the practice was once frowned upon, more people have acknowledged regifting as socially acceptable. Some items lend themselves better to the process, but for the most part, consumers are both happy and willing to accept any products that have been regifted. Companies can take advantage of this growing trend by distributing promotional products that are both useful and attractive to customers. Once considered considered tacky or tasteless regifting is no longer considered a taboo.
When choosing the perfect promotional product, businesses have myriad options. Investing in items that would be acceptable as regifted items – such as personalized backpacks, promotional t-shirts or executive portfolios – is a great way for companies to ensure their items will not only be put to good use, but also continue to spread brand awareness among a greater number of potential consumers.
Regifting leads to greater brand exposure
Promotional products have the ability to reach a range of people, especially when companies distribute them at locations that see traffic from an expansive array of demographics. However, when consumers who receive these objects choose to hand the product over to another person, the company has effectively doubled its reach. According to the 2013 Global Advertising Specialties Impressions Study released by the Advertising Specialty Institute, 63 percent of consumers in the U.S. indicated that they gave unwanted promotional products to another person, as opposed to storing it or throwing it away. Cities that were most likely to regift promotional products included Dallas, Chicago and Miami.
Whether consumers are giving the item to another because they believe the person would appreciate it more or because they are in need of a last-minute gift, promotional products are wise regifting options. Companies that distribute sturdy, attractive items are more likely to see a greater return on investment. According to the survey, 86 percent of recipients remembered the advertiser featured on the product. This means that while the consumer may gift the object to another person, they are still likely to remember the company's brand, and associate positive thoughts to the business – especially if the product helped them out in a pinch.
Growing number of consumers approve of regifting
A survey conducted by American Express found that while the practice was once taboo, people are much more likely to regift nowadays than they once were. Specifically, the source reported that 79 percent of respondents were OK with regifting, as opposed to just 21 percent who said they would never consider it. ABC News reported that there are a number of reasons that people regift. While monetary constraints played a role, other reasons included the fact that some consumers already owned the item in question, did not need it or simply thought someone else would benefit greater from its use. The practice of regifting is more acceptable when the item is useful to a greater crowd of individuals, such as tool kits, attractive mugs or electronics.
Keep these tips in mind when regifting
The key with regifting is placing the feelings of the recipient before those of the giver. While the majority of people don't mind receiving an item that is regifted, they do not want to be told immediately upon receiving the gift. Entrepreneur magazine and ABC News outlined a few guidelines people should follow when giving these types of items, including:
Don't give away items that are opened or clearly used
Be sure to wrap the gift specifically for the recipient
Give the product to someone who will appreciate it and gain from its use
Only regift recently acquired items, or, if you plan to regift an item several months in the future, keep it stored in a plastic bag in a space where it will not attract dirt, dust or grime
Related posts: