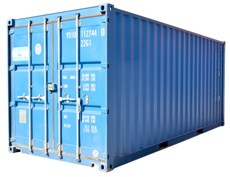 There are many storage options for businesses that must keep items packed away, but these storage options are often too expensive or cumbersome. Shipping containers are easy to use for storage because they are meant to rest on the ground until they are shipped. If a business does not plan on using the port containers for shipping, they can make sure that they organize these containers to keep their stored items safe.
Safety and Security
A large container is typically made of hard steel. The exterior of the unit is nearly impossible to breach, and the locks that can be placed on these units are unbreakable. Any items that are placed in these units are safe until the owner of the unit opens it.
Also, these units are too large for someone to haul away and steal. This makes them safe even when they are out in the open. A company can keep their most sensitive items inside, and they can keep everything else outside in these shipping containers.
Strength
If these units are going to be used in the shipping process, they can be locked down and placed on a boat or train for immediate shipment. They are sturdy enough to withstand the beating that they will take when they are moving to their final destination, and even the used units are perfect for storage. It takes several years for these units to break down if they are on the road all the time, and they will last much longer if they are used only for storage.
When a business invests in storage options, it must remember that storage can happen on the property. The business can invest in these large containers, place them anywhere they want and organize them as they please. The units will keep all the items inside secure, and the units are practically impossible for someone to steal. Just one investment in these units will change the way a business handles shipping and storage.
Related posts: