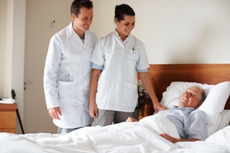 With ONS figures suggesting that 8% of men and 14% of women who are aged 65 today will live to 100, it's clear that a telegram from the Queen is no longer quite the novelty it once was. An aging population brings with it an increased need for specialist accommodation, including residential and nursing care. The result is a £6bn – and growing residential nursing care industry.
A depressing stream of scandals serves as a constant reminder of what happens when care homes fail to take their responsibilities seriously. So do the challenges associated with this sector make it a no-go area for outsiders? Is it really possible to deliver an excellent service, achieve an attractive ROI and keep on top of red tape? Below we take a look at what's involved in running a care home.
The days of draughty Victorian villas are gone
For new entrants to the industry, it's crucial to get to grips with the rules before committing to any investment. This is especially the case if you are thinking about buying a property with a view to converting it into a care home. Under the framework of the Care Standards Act, a home must provide at least 14.1 sqm of living space per resident, and specific guidance is given on how this ought to be distributed between communal and bedroom space. An assisted bathroom for every 8 residents is also required.
More widely, according to the Care Quality Commission, effective care home design should also ensure a comfortable environment for both residents and staff, it should meet the needs of disabled residents, encourage independence and protect privacy.
In light of this, when looking at a property's viability as a care home, an expert opinion from a specialist consultant and/or surveyor is crucial to avoid costly mistakes.
Putting together the right team
Whether you are starting a new care home or purchasing a going concern, you must register as a residential care home owner with the Care Quality Commission before you take the reins. For this, you must demonstrate your suitability to run a home through providing CRB disclosure, medical report, financial reference and proof of identity. The registration process also involves a site visit and interview.
You are also required to show that the service provided will meet the provisions of the National Care Standards Commission Regulations. For this, you must provide detailed information about the services you offer, including facilities, accommodation and levels of staffing.
It is not possible to manage the care home yourself unless you have qualifications at Level 4 (or equivalent) in management and care. In the absence of these qualifications, you will need to hire a qualified care manager and this will have an impact your staffing overheads.
More widely, recruiting and retaining a team can be a struggle. A report from Colliers last year highlighted the significant staffing challenge faced by many care providers. For newcomers to the market, any projection of costs needs to take into account the state of the labour market in your local area; including the extent to which you are likely to have to rely on agency workers and the additional costs this will involve.
Taking compliance seriously
Constant vigilance is required to ensure compliance with the guidelines set out by the Care Quality Commission. Far from being mere tick-box exercises, CQC inspections are in depth, unannounced, and can occur at any time – including evenings and weekends. Inspectors are looking to satisfy themselves that care homes are safe, effective, caring, responsive to people's needs and well-led.
On a practical level, duties faced by care homes include completing a thorough assessment of the needs of each user and how these needs will be met. This 'Service User Plan' needs to be updated regularly. There are also specific guidelines relating to nutrition, cleanliness and personal hygiene, the range of recreational activities provided and the ability of residents to maintain as much privacy as possible.
Maintenance of high standards is important not just from a regulatory perspective but also when it comes to protecting the reputation of a home and minimising the risk of liability claims. A specialist insurance broker is invaluable. Bluefin Group, for instance, includes a specialist care home insurance team able to provide new entrants and existing businesses with tailored advice on the provisions homes need to have in place from treatment malpractice through to the public and employers' liability issues that can sometimes arise in even the best-run homes.
All sectors feature their own distinct opportunities and challenges – and care homes are no exception. Doing your homework and getting advice before you make any commitment is crucial if you want to avoid costly mistakes.
Related posts: