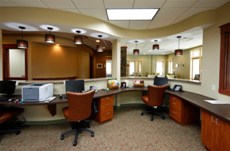 The advent of the internet has made it possible for many entrepreneurs to work from home. This is ideal for those working solo or as part of a very small team, but once your business starts to grow you may find that you can no longer keep up with demand in your current state. Here's what you need to know about designing your next office.
Fixtures and Furnishings
While moving could result in some downtime for your business, it could also be the perfect opportunity to give your company a distinctive new look. If you ever invite clients or potential business partners to your office, this could leave a long lasting impression. Buying quality furniture in large quantities is expensive, though, so you might want to consider leasing or opting for a fully serviced office.
When it comes to the design of your office, you'll want to consider how it will affect your workflow. Individual cubicles are ideal for solo work as they provide some privacy and a chance for employees to focus on the task at hand. They don't lend themselves to community projects, though, and you may run the risk of certain members of the term becoming isolated from the larger group. If you to create a spot where individuals can work privately, partition the areas with folding or sliding doors. This way, the doors can be left open to let people know they're happy to be spoken to or closed to ensure they aren't disturbed.
Technology and Equipment
Businesses are more reliant on technology now than ever before so it's crucial that you have the right setup. Your employee will always want faster, more powerful computers, but you'll have to consider whether the increased payout will be worth the performance boost. It's also important to make sure there's enough of the basics, like printers, photocopiers, and scanners, so that employees won't be left waiting and can spend their time in the office being more productive.
Don't just think about the hardware though. Finding the best software for your business could not only save you significant time in the future, it could also increase the quality of your output. Depending on your field, there will be numerous programmes specific to your industry, but every modern business will be sure to find use in cloud storage solutions like Dropbox or video chat software like Skype.
A dedicated office space may be the ideal solution to incorporating more employees into your team. From here, you'll be able to take your company to the next level.