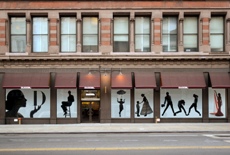 It has been a few years since you opened your storefront. You've managed to carve your place within the community and create a healthy customer base. However, the aesthetics of the store is beginning to look a little stale and dated. You want to remodel, but you think that you can't afford it, so you become comfortable with your store's appearance and do nothing. If this sounds like you, then you are not alone – many small business owners fall into a comfortable rut after a few years of operation and fail to update the look and feel of their store.
However, updating the aesthetics of an establishment every few years should be a welcomed priority. Doing so proves that you value your customers shopping experience and that you have confidence in your business. Additionally, remodeling can also bring in new customers and help rejuvenate your love for the business you have created.
The word "remodel" is usually synonymous with expense, but it doesn't have to be – with a little bit of bargain hunting, planning and imagination, you can create a five star store remodel using a minimal budget. Here are 8 inexpensive ways by which you can remodel your storefront:
Plan before you begin: Before your dive into your remodel you should plan ahead to avoid any impulse purchases and unnecessary expense.
Update your inventory: Updating your inventory by adding fresh and relevant items is one of the best ways to remodel your shop. Doing so will not only spark new sales and traffic, the process will also show that your shop is evolving within your industry.
Shop second-hand: Use outlets like auction sites, thrift shops, consignment stores and yard sales to search for items such as durable shelving, baskets, window treatments, store furniture and other such items to update your shop. You will save a lot of money purchasing second-hand pieces and those items may just need a little sanding, varnishing, washing and painting to look good as new.
Design eye-catching store displays: Customers may grow so tired of seeing the same store displays that they completely ignore them; therefore, it is important to update your store displays to match your current inventory and promotions. You can design and purchase inexpensive custom retail cardboard displays, stock them with popular items and then strategically place them at your point of sales counter or in general areas of your store.
A fresh coat of paint: A simple coat of paint may be enough to breathe new life into your outdated store. Instead of hiring painters, you can purchase a bucket or two of paint, enlist the aid of a few friends and get the job done yourself without the expense. Try to stick to colors such as pastels tones or shades of cream, brown or yellow as these tones can help promote a tranquil shopping experience and they can easily complement other colors.
Update signage: Your customers may most likely see the sign pointing to your storefront before they get to the store itself, so it is important that your signage is eye-catching and relevant to the products you are selling so that it sparks immediate interest. Shop around and compare prices before you partner with a signage company to get the best price for the best quality.
Enhance with complementary decor: You can update the aesthetics of your shop by tastefully placing a few plants and wall hangings throughout the space.
Introduce pleasing fragrances: Pleasant fragrances have the almost magical ability to stimulate endorphins and subconsciously enhance a calm and stress-free environment, which in turn can encourage customers to stay longer and visit your establishment more frequently. Scents such as lavender, chamomile, sage, cinnamon and orange are among the most pleasant. When introducing fragrances, do not overpower the space, instead, use natural diffusers that gradually releases the fragrance.
In addition to the simple remodeling tips above, one of the best ways to have your store looking its best is to always keep the aisles organized and clean of clutter and dust. A clean shop is very attractive to customers.