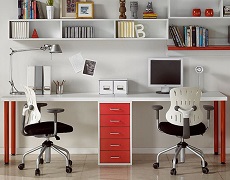 Working from home is a great benefit for those who have the ability to do it. You can avoid sitting in the traffic for hours, have a flexible schedule and focus on the work without getting disrupted by co-workers all the time. On the other hand you have to be careful to make sure you focus first on OFFICE and not HOME. To get the most out of working from home there are certain essentials you need to take care of. Below we have listed the Top 10 that will help you get the job done efficiently.
Packing and Shipping Materials
If you run a business that involves having to make a lot of shipments, it's best to have all of your shipping materials and labels ready and waiting for you whenever you need them. Check this site out for some great deals on everything from bubble wrap to cardboard envelopes and much more.
A Wall Organiser
A wall organiser is perfect for small home offices. You can use everything from shelving to pin boards and message boards to keep important documents, calendars, and reminders in view and easily accessible at all times, without cluttering your desk.
A Combination of Natural and Artificial Lighting
Studies have shown that natural light can help boost your mood and your productivity, so opt for a room in your home with a window that provides plenty of natural light during the day. But also make sure you have artificial light that's soft rather than harsh, so avoid fluorescent lighting.
Computer and Devices with Wi-Fi
Your home office should have Wi-Fi so you can access the internet on your computer and all of your mobile devices, including your mobile phone and your tablet. This will allow you to always stay connected to clients and vendors.
Comfortable Office Chair
A comfortable and ergonomic office chair is essential if you have to spend hours working at your desk. The right chair will prevent pain and help you stay focused and comfortable.
Storage Space
Having a storage area in your home office is also important. After all, you need to have a place where you can file away and organise important documents, from bills and tax forms, contracts and receipts. Whether you have a shelf, filing cabinet, or closet, find some way to store everything in an easy-to-find fashion.
Office Equipment
In addition to your computer and mobile devices, you also should invest in a high quality printer, scanner, fax machine, and copier. Some brands produce all-in-one units that will save you space and money.
Planner and To-Do List
Knowing what's in store for you for the day is important in helping you stay focused and get things done. Therefore, have a planner handy at all times so you can set appointments and deadlines with ease.
Coffee Maker
If you rely upon coffee to help you get going in the morning, and to keep you going throughout the day, have a coffee maker right in your office so you can easily grab a cup as soon as you need it.
Basic Office Supplies
Finally, you should have all of your basic office supplies, from your stapler and your tape, to your pens and paper clips, handy at all times as well.
With these 10 essentials, your home office is sure to feel like a professional space.