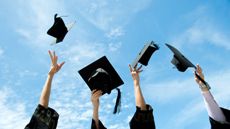 Employee benefits can be double edged sword. On one hand, it costs businesses lot of money, but on the other hand they can generate loyalty and improve employee performance. The key to succeeding at this is making sure you implement properly and generate good return on investment. Tuition reimbursement is one such benefit that can help businesses of all types attract good employees and retain them eventually helping businesses grow. Granted, it costs significant money to implement tuition reimbursement program with the rising cost of college in the U.S., but if you manage it properly you can get significant tangible and intangible benefits from it.
That is why many large corporations have recently rolled out tuition reimbursement benefits. For example, Starbucks recently launched College Achievement Plan for eligible employees. It is designed for employees who are in their junior and senior year of college, supporting them in finishing their degrees. Employees must be based in the United States and work an average of 20 hours per week or more. Other companies, including Deloitte, UPS and Home Depot have similar programs.
How does Tuition Reimbursement Program Work
These programs can vary widely between different companies, but majority of them provide full or partial tuition assistance with certain conditions. As long as employees meet those conditions they can take advantage of the program. Many companies stipulate that the employees must maintain grade B or higher to receive the assistance. They also have to enroll in the courses that are related to their specific role or at least help them develop professionally.
Benefits
While the cost of tuition reimbursement program can be significant, it can also generate equally significant benefit for the company as explained below.
Improve employee skills – Employees who enroll in the courses related to their job role can learn new skills that they can apply to their jobs and bring efficiency, better customer service or higher sales.
Attract good employees – With the cost of college education rising every year, employees will be attracted to companies that provide tuition reimbursement benefit. This can help you attract higher quality employees.
Retain employees – Employee turnover is a big problem for all types of busin It costs significant effort and money to hire a new employee and train him/her. Providing tuition reimbursement program will help you retain quality employees.
Promote high quality employees – The program also helps promote excellent employees after they have acquired new skills. It costs lot more to hire an external candidate than to promote good employees from within.
Build employee loyalty – Companies that offer tuition reimbursement program are regarded highly by their employers. These employees will go extra mile on their job and give their best to the company.
As you can see it is in the best interest of employers to provide this benefit, which will pay by itself, and more, down the road.
About the Author
If you are interested in current business topics and how they affect the modern workplace, King University offers both graduate and undergraduate programs that enable you to deepen your understanding of the business world. If you are ready to advance your career in this dynamic field, choose from our online Bachelor of Business Administration and Master of Business Administration (MBA). You can learn more about our online business degrees and find out what a King degree can mean for your career here.