Sponsored Post


A new member in the growing market for time tracking and project management software, MindSalt offers an all-in-one solution for small to midsize businesses. Users can track timesheets, report expenses, and manage projects using MindSalt's online interface.
How It Works: Features & Functions
When you sign up for a MindSalt account, your dashboard features four tabs: Timesheets, Expenses, Reports, and Administration.
Timesheets
With MindSalt, you can create and manage weekly timesheets generated and printed in just a few clicks. Under "Manage Approvals," you can see a list of submitted timesheets from staff members that are waiting for your review.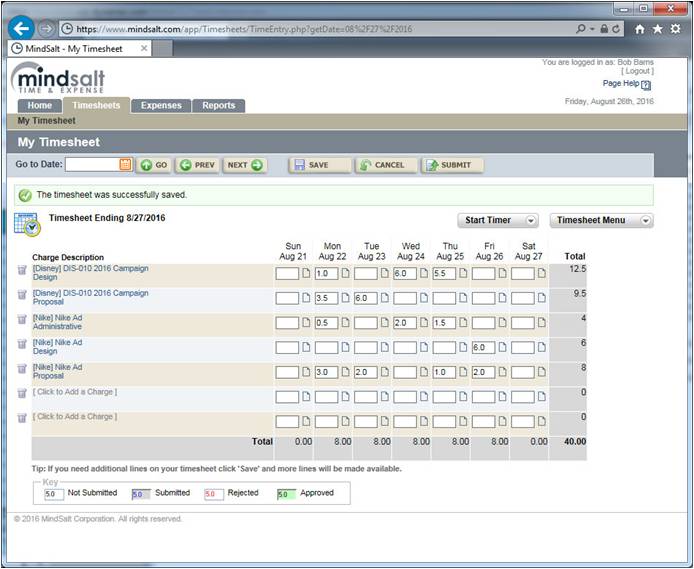 Expenses
Generate, submit, and approve (or reject) expense reports easily. Staff can submit reports for an administrator or owner's review. Under "Manage Expenses," you can sort by employee, and under "Manage Approvals," you can approve or reject pending expenses.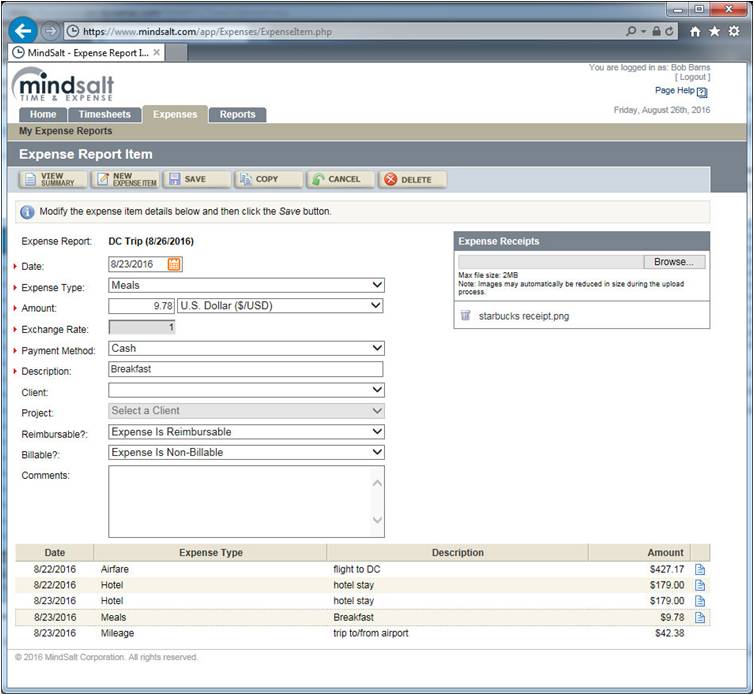 Reports
The Reports tab gathers all of your administrator, manager, and employee reports in one convenient location. It has an invoice creation option as well. Under Project Status, you can check on ongoing projects, which display a percentage of completion.
Administration
The Administration tab has a few different options listed at the top.
System Preferences: Update your company information and security settings.
Company: Create listings for employees in different departments in your company, and post company news for your employees to see on their home screens.
Clients: Create and update a list of your company's clients. Each client can be linked to projects for invoicing purposes.
Employees: Group employees and former employees into status groups (i.e. employed, former) and types (e.g. full-time, contractor). You can also set up and manage your employees' individual accounts here.
Timesheets: Configure time tracking, add time off and vacation days, or modify timesheets on an employee's behalf.
Expenses: Manage expense type groupings, payment methods, expense reports, and approvals.
Projects: Manage ongoing projects by grouping them into categories, setting priorities, and arranging projects by their completion status.
Pros & Cons
As a combined time tracking, expense tracking, and project management system, MindSalt holds its own. It's interface is relatively straightforward, making it simple for you and your staff to get the hang of using the system. The site's design and layout aren't exactly pretty, but they're certainly functional.
For small to medium businesses, MindSalt is a software service that's certainly worth considering. Its straightforward layout and easy navigation give it an edge in the crowded software market. It's not without its flaws, but MindSalt is a solid, effective solution for businesses.
They do offer a free trial so you can check it out before making your final decision.  They don't require a credit card for the free trial.  Users start at $6/mo and there are no contracts.  You can cancel anytime.