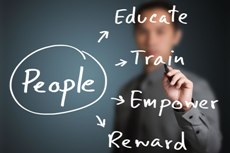 Many small business owners believe that when it comes to human resource management they do not need to pay much attention or spend money on processes and tools. After all, they have only a small team of employees to manage where everyone knows everyone else and you can take care of tasks without much burden. This could be a mistake. While it is true that small businesses do not have as much need as their larger counterparts when it comes to human resource management they can still benefit by deploying HR software. Here are number of ways in which HR software can help small business owners reduce cost, streamline process and improve the business.
Easier recruitment
For any company, regardless of its size, recruitment is a big headache. Putting together a job advert does not take long, but the rest of the process can be very time consuming.
Posting the vacancy on a range of job boards, and with local agencies is surprisingly time consuming. It can easily take you two or three hours to get the job done.
If you use a good quality HR software package, like the one produced by Cascade HR, you can post your job listing to multiple email addresses at the touch of a button. Instead of it taking you hours to post your job advert, it only takes a couple of minutes. You can also save job advert templates on the system, which will save time the next time you need to recruit for the position.
You can also save time by getting candidates to add their details to a database rather than send you a CV. When an application arrives you can be notified, quickly review it, and remove any candidates that do not fit your needs. If someone catches your eye, you can quickly organise an interview. This is a lot easier and faster than ploughing through CVs. You can even use the search facility on the database to find candidates with certain qualifications, and do so quickly.
Better payroll management
A good HR system will also allow you to save time on your payroll. With many systems, you can set things up so your supervisor only needs to key in the hours worked. The software then automatically works out the tax and other deductions and sends the money to each employee's account.
When the law changes and tax levels have to be adjusted, all you need to do is to change one field in the software, or download the provided update. Good quality HR software will help you to stay legal, and follow the regulations associated with your sector.
Keep on top of absenteeism
Absenteeism is a big problem for many small businesses. Some packages allow you to set up warnings to alert you when someone starts to take a lot of time off sick. For example, you can use reports to spot someone who regularly goes sick on a Friday or Monday, which can be a sign that they are not genuinely ill.
Help with training and staff development
In some sectors, like the food industry, your employees will have to complete certain obligatory training courses. You can use a good HR system to help you to manage this, and provide you with a record you can use to prove that you have stayed within the law.
If you want to learn about the benefits looking after your staff can bring to your business, please click the link.