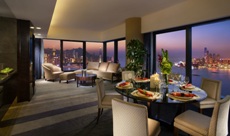 Many of the world's most successful hotel chains feel rather formulaic and clinical in their design. The cold interior fails to offer the warmth expected in the hospitality industry, so they merely provide a place to rest your head before you forget the hotel stay altogether. However, there are some exceptions to the rule, such as Marriott.
Many guests across the world have wised up to the cold features that blend one stay into another, and are now seeking a warmer, more authentic hotel experience on their travels, which is where you should come in. We are therefore offering some helpful tips to help you stand apart from the cold accommodation chains that take up the market space.
Complement the Culture
Airbnb is a force to be reckoned with in the hotel industry at the moment, because they are encouraging guests to "live like a local" – which is an ethos all hoteliers should learn from. Guests are now looking for authentic hotel breaks, so create accommodation that complements the culture of an area. For example, if you want to open a hotel in Manhattan, New York, strive to offer modern, functional facilities that reflect the surrounding area.
Add Some Colour
White might be bright, but it can also be exceptionally dull, especially if it isn't complemented by textures, bold colours and unusual patterns. Guests are no longer looking for simple; they are seeking colour and personality so the hotel becomes as memorable as the trip itself. So, add a splash of colour to your design or consult the likes of Sajan Hansji, who has extensive experience in hotel development.
Spot Issues before the Guest
Train your employees to look out for potential opportunities to not only improve the guest experience, but to spot potential problems before they arrive. For example, have a member of staff walk through each room prior to a guest's visit to ensure the hotel's standards are continually maintained. You should also review table bookings at the onsite restaurant to ensure a guest can enjoy dinner at the hotel that evening – so you can either set aside a table at the restaurant or make them aware of the situation once they arrive at the hotel.
Change the Check-in Experience
A guest might like to upgrade their room a little closer to their stay, or may like to make a last-minute reservation at the onsite restaurant, so create an app that allows them to do just that at the click of a button. Many hotels are turning to new technologies to improve the guest experience, which is helping them stand apart from their rivals. Customers now have different travel expectations, so you need to be adaptable to their technological needs if you want to succeed.
The hotel industry is changing. You can either move at the same pace or risk falling behind. So, if you want to become the competition, ensure you create a beautiful hotel that is filled with personality. Also, encourage staff initiative and consider upgrading your hotel's technology to provide guests with greater flexibility.