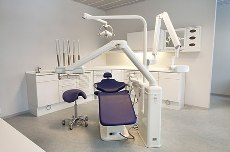 If you want your dental practice to become extraordinarily successful, it's important to consider which marketing strategies you can use to realize the goal. Below you will find 8 underrated dental marketing ideas that can take your dental practice's conversion rates from average to amazing:
Content Marketing
Content marketing was a big deal in 2016, and it will remain one of the primary mediums through which businesses convey the value of their brand to the customer in 2017. This year will be marked by specific trends. In "Five Content Marketing Trends to Watch in 2017," Joe Pulizzi notes that email has become an increasingly powerful form of content marketing. For example, Pulizzi notes that The Washington Post has more than 75 e-mail newsletters. Additionally, The New York Times has dedicated 12 people to their newsletters process. E-mails can be used for multiple purposes, such as alerting people of discounts, providing them with the opportunity to buy an ebook, or giving them links which they can share with other individuals in their social networks. Make sure that you tap into the power of content marketing so you can keep your dental practice going and growing!
Social Media Marketing
Social media marketing is oftentimes overlooked when dental company representatives think about how to advertise their organization. There are at least five major social media channels that you might consider when deciding how to reach new audiences or remain connected to your current clients. They include Twitter, Google+, LinkedIn, Facebook, and Instagram.
Search Engine Optimization (SEO)
As noted in SearchEngineLand, SEO will continue to play an important, primary role in the online marketing process in 2017. Make sure that your dental company is using proven SEO methodologies like link building and target market research. These strategies will help your dental brand become more visible to your target audience. If you are outsourcing your dental SEO work, make sure you hire experienced companies such as Solution21 who have provided services to many dental practices before. It is better to benefit from proven methods than being a subject of experimentation.
Landing Page Optimization
In many cases, one of the most effective dental marketing strategies a business owner can implement is landing page optimization. Although defined broadly, a landing page is basically any web page that a user would arrive at after clicking a link advertising your brand. In some cases, the landing page can be a standalone web page that is entirely distinct from the main site. Creating these standalone web pages is a strategic approach that involves limiting the visitor's options so that you can guide them towards your conversion objective.  Here are a few strategies that can contribute to the landing page optimization process:
Develop a Catchy Headline
One strategy you'll want to implement for the purpose of developing an incredible landing page is creating a catchy headline. This concise, clear headline will provide your reader with a basic understanding of what your landing page is about. Here are a few examples of effective headlines:
10 Most Important Steps to Living Longer
The Best Kept Secrets of Cooking
5 Ways to End Your Money Problems for Good
Note how two of these three samples structured the headline in terms of a numbered list. Numbered lists are incredibly effective because they let the reader know that your landing page will include a simple, easily digestible list of facts.
Use the Right Keywords
Another strategy you need to implement to optimize your landing page is keyword optimization. Note that when individuals search for a specific product or service, they enter keywords or key phrases into the search field. For example, an individual looking for tea products might use a key phrase like "Buy Earl Grey Tea Online." Make sure you do keyword research to determine which terms people are typing in when they do a search for the good you offer. Next, sprinkle the content on your landing page with these keywords to ensure that you attain a great ranking in the search engine results pages (SERPs) of major engines such as Bing, Yahoo, and Google.
Cultivate Your Call to Action
Developing a clever, concise call to action is a key element of the dental marketing process. Doing so ensures that the prospective customer takes a step that will advance the interests of your business. This could be anything from scheduling a dental appointment to signing up for your monthly e-newsletter. An example of a good call to action would be "Sign Up For Our Dental E-Newsletter Now And Get A Free USB Stick." USB sticks are a wonderful promotional product that you can use to advertise your dental company while simultaneously keeping the prospective customer engaged with your brand. In this case, the USB stick is the incentive for the client to sign up for your e-newsletter, thereby increasing the likelihood that she or he will become more familiar with your dental practice and eventually schedule an appointment.
Blog
Blogging is an underrated dental marketing strategy, but make sure that you don't overlook the power of this advertising technique. Because blogging enables you to engage your audience in a more casual way, this technique can help you build relationships in a unique way that optimizes your conversion rates. Make sure you get your audience really involved in your blog with strategies like the development of Q & A blog posts.
Online Reputation Management (ORM)
Online reputation management is a process that involves ensuring that your dental company maintains a pristine, positive image in the internet realm. You can hire a professional digital advertising agency to help you cultivate this type of reputation. Doing so will help prevent you from losing business due to things like negative or neutral online reviews.
Start a Referral Program
Referral programs are powerful because they function as a form of word-of-mouth advertising. Additionally, they cause your current clients to play an active role in your brand, thereby increasing the likelihood of repeat conversion and brand loyalty. One referral program idea you might try is offering your current clients 15% off their next dental appointment when they have one of their friends sign up for your weekly e-newsletter.
Start Optimizing Your Dental Marketing Process Now!
The dental marketing strategies listed above can help you improve on your current advertising plan by enabling you to connect with your audience in new, exciting ways that get people interested in your brand. Start using these techniques now so you can build a bigger bottom line and optimize your dental company's reputation!
Related posts: