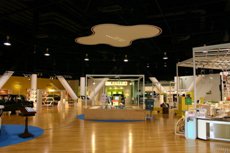 Small business success is rarely easy. It can be challenging to build your brand with limited resources, but one simple way to get increased exposure for your business is to attend trade shows.
An industry trade show provides many benefits: it helps you increase your customer base, build relationships with other small business owners, connect with vendors, and introduce your product line to the public.
Since trade shows can be expensive, as well as labor intensive, the trick to getting a great return on your investment is to prepare well ahead of time. You need a clear idea of how you plan to set up your table or your custom pop up tent and a good strategy on how to engage visitors when they visit.
Here are 5 suggestions on how to do well with trade shows:
Research the right shows for your company. You won't be able to attend all the trade shows in your industry, so be selective about the ones that you do plan to attend. By doing your research for the year ahead, you'll be able to benefit from the discounts that come from registering early. This could save your business hundreds, if not thousands, of dollars.
Develop a team to develop a plan of action. You need lots of ideas on what to do and to assign responsibilities to various leaders to make sure that you represent your business in the best possible way.
Create a budget for your trade shows. Think of trade shows as playing the long game: they will help you promote your business effectively in the fullness of time. In order to be able to afford to attend a few trade shows in the year, you will need to have a good idea of your expenses so that you can plan ahead.

Your costs will include:
Booth rental fees, and any other associated fees.
Paying your sales representatives, including adding any bonuses if they achieve certain goals.
Paying travel, lodging, and food for your reps.
Insurance.
Event setup costs, which will include everything from signage to product literature.
Any costs associated with promoting your presence at the trade show.
Be creative and original about your booth. It's not all about getting a large booth. You need to pick an attention-grabbing theme, and you also need to get the right people there, people who know how to engage with customers and build relationships. Hubspot offers the following hard-hitting advice on the value of being unique:
"Trade shows are a large investment in both money and time. If you're going to make the investment in a trade show, the first item you should spend your money on is a booth that will stand out. Investing in an expensive booth that you can use and re-use for years to come is the best option. If you're going to be cheap about your booth selection, you may need to look at another avenue of marketing."
They also suggest you use a modular approach to presenting the same visual elements so that it can work with any size of booth–10×10, 10×20, or 20×20.
Plan your work and work your plan. There are many crucial elements to setting up a great trade show exhibit. Here are a few questions you need to ask when planning your booth:
Why are we doing trade shows?
What goals do we hope to achieve?
What are the best events to attend to connect with our ideal customer demographics?
What are the best ranked shows for what we hope to achieve?
How can we document our entire process, and how can we get feedback on how well things went?
What contests, giveaways, and other incentives can we introduce to increase the number of visitors?
What channels will we use to promote our presence at a trade show to get more people to attend?
Instead of thinking of the trade show as a marketing and sales opportunity, it's more realistic to think of it as an opportunity for building brand awareness. Yes, you might manage to make some sales at the trade show, but your representatives should focus on introducing attendees to what your business can do for them and give them plenty of literature and contact information.