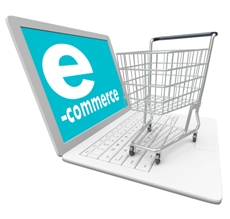 Technology advances of recent years have made it possible for any business to build an online shop with little effort. At the same time, more and more customers are moving online to make their purchases. As a small business owners if you are not serving your customers via online shop you stand to lose sizable portion of sales to competitors. While Amazon is an 800-pound gorilla in the e-commerce market there are number of retailers and small business owners have found a niche that is not served by Amazon or other large providers. So what does it take to build an e-commerce shop? Here are some tips:
The good news is that this type of venture is not pricey. The only expenses at this point are the costs that are needed to buy a domain name and a reliable website template. There are many options on offer out there in regard to this, such as One.com for all your domain needs, so it's best to get searching. You should, however, factor in the fact that the goods you will be selling will also come at a price later.
You should begin your venture by scoping out your competitors. Have a look around the market your marketplace will be in by searching for keywords related to it. The top ten results on the search engine you used (probably Google) are going to be the ones you should pay most attention to. And once you've pinpointed them you should access their website and begin to take notes. You should note down what they are selling and how much they are selling it for. You should also take notes on how they are promoting their business at the same time, i.e. how are they linking back to their own site and their social media? Most importantly, you should look out for any USPs (unique selling points). This is because you yourself will need to come up with one and it needs to be one that differs to others. An example of great USP is the way in which independent distributors have come into fruition in recent years. The USP of these types of marketplaces is that they provide goods that are hard-to-find and this is what continues to drive their custom.
It is essential that you make the experience for the customer as easy and as safe as possible. In regard to the latter, by using the services of Jumio's Netverify you can reduce fraud two-fold by revealing the true identity of the customer to you. By using as cutting edge a service as this you can ask for clear photographic evidence of the customer's ID as well as a photo of their face in real-time. Subsequently this means you can be sure that a customer is genuine before you do business with them. By doing this you are instantly building a brand for your marketplace — a brand that says you can be trusted. And in regards to making it easy for the customer, you should be aware that mobile commerce it set to hit $114 billion in 2017. The increased popularity of mobile commerce, which is shopping that takes places on smartphones and tablets, means you should make your marketplace as phone friendly as possible. If it freezes when a customer accesses it on their phone they will leave it. If it isn't quick to load they will leave it. If it isn't easy to navigate they will leave it. Simply, in this day and age, it must be responsive to mobile devices.
Remember, your startup marketplace might not be a unicorn but through hard work in ensuring it is optimised to its full potential it could become the next Amazon.
Related posts: