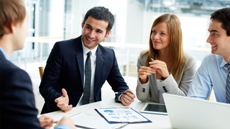 Whether you just started your business and have only few employees or you already own and manage several commercial properties, consultants can simplify the act of finding success. If you fear even for a moment that you are not making the best decisions in terms of moving your company in the right direction, such professionals can help you steer yourself toward a more favorable outcome. These experts will help you discover exactly which direction is the best for your industry sector and how to property maintain that direction without too many delays or difficulties.
In each industry sector, certain trends must be caught and followed before you can take advantage of them to build the success of your business. Although you are clearly a highly intelligent business owner, you have far too many responsibilities on your plate in running the business to do it all on your own. In addition, the payroll needs of building an in-house team are often out of reach for a business just starting off.  So how can consultants help you take your business to the next level?
Developing Strategy
A small business consultant such as those found at groundfloorpartners.com start by thoroughly researching your company, its current branding strategies, and the goals you have for the company's future. A strategy is then based off the true facts of your business and current trends are created. You can expect detailed and highly accurate market research to be a critical part of this process. From there, you are offered several different options that can help you move forward with your goals, and you may be surprised at the sources from which these options come.
Scope
In addition to having clearly defined and researched goals, you must understand the scope of your project. For example, you must ask yourself whether your plan is specific to one certain aspect, such as a singular customer segment. You must account for associated payroll, production, quality control, and much more before you can even begin to implement your strategy. However, a consultant will be able to help you do all of things and more.
Tips on Goals
A successful company has more than just one final goal of "success" in mind when performing any type of actions for the company. For instance, you may have the short-term goal of raising annual revenue by 3 percent this year compared to last year or want to expand your current customer base by 40 percent. Although you should have long-term goals, several short-term goals inserted into your strategy can help you stay on the right path over the course of this fiscal year.
Smart goals are goals that can be measured and are highly specific without losing realism or missing the deadline. If you underestimate the capabilities of your company, you could end up missing out on success later because you did not push the boundaries hard enough. Conversely, you could be far too unrealistic with your goals, setting bars too high and deadlines too close for any type of real work to happen. However, a consultant can help keep these types of situations from happening in the long run.
Related posts: