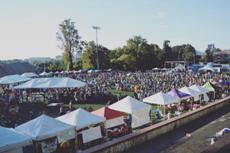 Digital marketing via social media and email are the obvious choices for any online business to succeed in the industry they're serving, but traditional methods such as marketing at a summer event can still be beneficial to any online business. If you're thinking of taking your brand to a public summer event this year to give you more exposure, have a look at some of the tips below to ensure it's done efficiently.
Hire a Professional Marketing Company
If you want to go the extra mile when it comes to your marketing needs you should consider hiring a marketing company such as Eventige to help with a summer event. This is by far the easiest way of helping your business grow and even though it can be expensive, it should be considered by any business looking to grow. The expenses involved may seem unviable at first, but when you look at the services provided and the fact you'll have help interacting with your customers face to face you'll instantly see it as a cost-effective solution.
When hiring a marketing agency for the first time always make sure you understand the services they provide and the services you want to take advantage of to give your brand a bigger name at any summer event.
Sell Your Branded Products
While a summer event such as a food and drink festival is often used to promote food and drink brands, there's no reason why your business can't sell food and drink products with your brand name, even if you are in a completely different industry. Even if you're offering I.T or landscape design services, selling food and drink at any event could go a long way in getting your brand name out there, and you'll also be able to hand out leaflets and pictures of previous projects you've been involved in.
Hold a Free and Fun Competition
Whether you're in the garden furniture selling industry or you offer helicopter rides, if you're presenting your company at a summer event you should consider holding a free competition so your interested viewers can get involved and see what your company has to offer. You can be a simple as you like from getting contestants to play bingo or you could even offer a penalty shoot-out and offer cash prizes – your options are endless when it comes to free competitions for potential customers to enter.
Give Out Freebies
The best way of getting your brand out there at a summer event is to give out freebies because everybody loves a freebie regardless of what it is. If you're trying to promote an alcohol brand, give out free samples to your clientele, or if you're promoting a web hosting service, give customers a free month of hosting so they can see what you've got to offer.
Marketing your brand at a summer event could be the way forward to give it more exposure, and by taking advantage of the above tips you can be sure you're going to market your business the proper way!