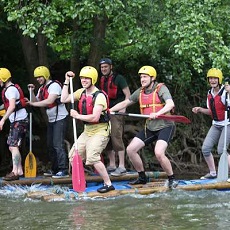 It would be fair to say that corporate team building has become immensely more popular over recent years. Once regarded as something of a fad, the practice is now sworn by a lot of companies around the globe and judging by the benefits they bring, it's no surprise why.
Additionally, the types of events have started to vary immensely. The definition of team building may have been a traditional school sporting activity, although now that is just one element. It could be something like these corporate hospitality events, which include experiences such as drinking on a London bus, or even going to Paris for the day.
In short, these days can be extremely creative and the stereotypes that were once associated with them have certainly disappeared.
To highlight just why so many companies are heading down this route, let's take a look at some of the benefits that teams who frequent these days can take from them.
Better communication
The degree in which this occurs will vary between teams. It's worth mentioning that some teams who go on these days do not tend to have employees who regularly work with each. As such, the purpose of the day is to merge these employees together so that they work with each other much more efficiently.
One of the reasons this happens is because the nature of the corporate day means that it has to encourage communication. Whether it's in the traditional game days, where communication is essential in order to complete a task, or in some of the party events where communication is a means to having a good time – the attribute is encouraged emphatically.
Additional productivity
A knock-on effect of the above is that productivity levels also tend to soar. The improved communication means that those employees who visit these days also see their days become more productive as well. It's a combination of knowing other people on the team better, as well as just knowing how to communicate and react to different problems. The tasks involved on these corporate days tend to encourage such development.
Defined roles for each person
Each person in your company will have a role – it will be part of their job description.
However, whether or not it is defined is a different matter entirely. Particularly with project work, some people just struggle to identify what their purpose in the team is.
The beauty about team building days is that this issue has to be identified from the start. Each person in the team has to know and understand what they need to do, as the success of the task will depend on this.
Like a lot of the attributes we have spoken about, the upshot of this is that the employees can take this knowledge and experience into the workplace. In other words, while it might sound like a jovial way to spend time, when they return to the world of work people often find that these attributes naturally filter in to their day. This is why corporate team building is proving to be such a useful tool in a company's arsenal.