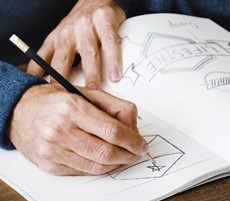 Humans are visually oriented beings. Imagery sparks the brain to retain information faster and for longer periods of time than text alone. Including visual elements in your branding is essential if you want to capitalize on this tendency and make your brand stand out from the others in your field.
One of the best visual elements you can have is a logo. It's highly portable, able to appear in any marketing channel. And it's easy to recognize, helping you connect with customers quickly. At least, a good logo can do all these things. Here is how you can create a good logo for your small business.
Capture your brand's personality
Every business has its own unique branding challenges. Maybe you've worked hard to emphasize efficient customer service, or you try to create a high-tech experience. Your logo could incorporate those traits: minimalism and flat design are great for portraying efficiency, while silver and sans serif fonts just scream modernity.
Before you start designing a logo, think about the brand message you want it to send. You will ideally use your logo for several years before you think about updating it, so you want something that will match your brand's goals and grow with you. Then, study up on design options. There's a whole world of psychology behind colors, shapes, fonts, and images that can help you connect with customers.
Know when to ask for help
Logo design is a very nuanced process, from choosing the right font to correctly spacing each component of the logo. You might be qualified to handle some parts of this project yourself, but it's unlikely that you have every single skill necessary to create a truly high-end design.
If you find yourself struggling to navigate design software or concocting logos that look amateur even to your untrained eye, it's time to get help. Working with a small design firm is the best option for small businesses. Small firms are more cost-effective than large agencies, and you can spend one-on-one time talking with and learning from the designers.
One more thing to remember: while you certainly want to like your logo, the design you ultimately choose needs to connect with your customers first and foremost. You'll know you've found the right logo when customers respond to it—even if it isn't your favorite color.