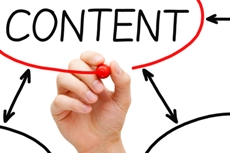 In the digital age of today, content marketing is an absolute must for anybody looking to start a new business venture. Without good content, it will be very difficult for your business to stand out from the competition, achieve growth, and gain a loyal base of customers and followers. Whether you're starting a business that's based in a traditional bricks and mortar store or entirely online, your online presence has never been such a crucial part of your success. With more and more customers today using the internet to find new brands, products and services, compare reviews and prices, leave their own opinions and find customer support and advice, it makes sense that your online presence should be one of your company's top priorities.
However, without content, there can be no good online presence – a website alone simply won't cut it if you're hoping to become popular online and build your brand over time. So, a solid content marketing strategy is absolutely vital; this will enable your company to produce content that your target audience can connect with. The main aim of any good content marketing plan is to convert members of your target audience into paying customers. So, how can you create content that does all this and more? Let's find out.
Find Out What Your Audience Wants
One of the biggest mistakes that you can make as a business owner is failing to find out what your target audience wants when creating content. You can put together awesome blog posts, videos, graphics and more – but, if they're not resonating with your audience and sparking interest, you can't expect them to take your results far. To avoid wasting your money and time on a content marketing strategy that doesn't work, it's important to engage with your audience and get to know them on a more personal level, so that you can put together content that is tailored to them and provides them with the information that they need.
For example, you could ask your audience to send in requests for different types of content and then provide it – this will not only make sure that your marketing strategy is geared in the right direction, it'll also improve customer satisfaction by giving your audience a louder, stronger voice that's guaranteed to be heard. For more information on creating audience-centric content, get in touch with Netwave Interactive.
Use a Variety of Content Mediums
Written content may have once been the king online, however that is quickly beginning to change as the demand for other types of content mediums is increasing. Whilst this is absolutely no reason to quit your company blog, it's important to make sure that you accommodate all the needs and preferences of your target audience, rather than just the ones who enjoy reading.
For example, video marketing has been gaining more and more momentum online in recent times; this has only been exemplified by the introduction of social media videos, which are increasing at a rapid rate. When possible, condense information into a video or make short films that provide value and entertainment to your audience. What's more is that videos are much more likely to be watched and remembered – they are a very powerful marketing tool since you can get the point across in a matter of minutes, rather than requiring the watcher to read a lengthy blog post which might put them off. Infographics are also a great content medium to choose; they are fun and very visual, incorporating professional graphic design and eye catching colors with interesting information.
Put Quality Over Quantity
One of the gravest mistakes that companies make when putting together a content marketing plan is simply creating content for the sake of it. Having a 'more is better' motto will only work in content marketing if you can guarantee that every piece of content your brand delivers is of the highest quality and provides an engaging, valuable experience to the reader or viewer. However, this can be very difficult to achieve when the main aim is to produce as much content as possible.
Keep in mind that quality is always better than quantity when it comes to producing content for your brand. For example, guest posting has long been one of the main actions in a content marketing plan; placing your content on authority blogs in your niche is one of the best ways to gain more exposure for your brand and increase the size of your customer base. However, one very high quality guest post published on a popular, reputable blog is always a much better option when compared to ten low-quality guest posts on lesser-known, smaller blogs, for example.
Find the Right Influencers
When it comes to putting together a successful content marketing strategy and plan, it's important to not only focus on the type and quality of content that you produce, but also that you find the right influencers who can strengthen your brand and improve your reputation. Today, customers don't only want as much information as possible about your brand, values, and what you have to offer – they also want to know who trusts and endorses you. When the right people are willing to promote your brand and say good things both online and offline, you can achieve excellent results.
When it comes to finding influencers, it's definitely worth the time and effort that it takes to partner up with well-known, influential bloggers and online personalities who are widely trusted and respected in your niche. To do this, it's important to take the time to engage with your influencers and get to know them; provide them with a brand experience that they will want to talk about. Make sure that you gain a solid understanding of each individual influencer that you choose; for example, get to know their writing style and how they influence other brands.
With the demand for high quality content on the rise, businesses need to deliver! Did these tips help? We'd love to hear from you in the comments.