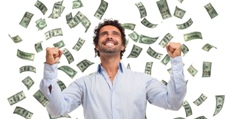 There's no business in the world that wouldn't be helped by having more money. More funds can lead to increased investment and hiring better staff; it can help smooth the HR process, and buy the latest technology or upgrade to new premises. And sometimes there are methods for making quick money that require very little work – such as these four:
Crowdfunding/Patreon
Crowdfunding models have already changed beyond all recognition. Where once it was viewed as a fairly obscure concept, now SMEs and project designers from across the world are asking for and receiving funds. It's estimated that well over $34 billion was raised through crowdfunding in 2015; that injection of funds does not just keep a business going, but also allows it to innovate.
Patreon is a newer platform that does not ask for a lump sum, but a regular subscription per month, used primarily for creative communities. So rather than immediately approaching banks or other more traditional lenders for cash, perhaps the new, digital models have more to offer in the right circumstances. Do you make any products that could be diversified to give investors/subscribers an added level of service for their funds, such as an exclusive look at new products or 1-1 phone calls with the CEO?
Reselling
Anyone who has an ability to design and run a website, or populate it with content, could try reselling – a way of not only building the site, also administering to its hosting. As the reseller, you'll act as the middleman between the hosting company and a third party; you'll source the host service (it could be one that you're currently using yourself) and sell it on, possibly for a profit.
It might be that you literally stop there and make money for nothing, or instead use your own creative services to build the site as well. It's a quick and simple way of running business from which everyone benefits, as many host companies actively promote themselves as suitable for resellers – and those vps resellers can brand the websites, with no mention of the actual hosts.
Repurposing
Renting out spare space, done wisely, can make you quick money for nothing. Look online and you'll find that the desire for city centre space for SMEs is always there, but the costs are sometimes crippling, especially if you throw in insurance, business rates and other costs. Even a small room of 11-15 cubic metres can be of use for the person who's just started out and needs a base; the appeal of a professional address (as opposed to a home one) and a quiet location away from home shouldn't be underestimated. If you can find a complementary business, where cross-promotions may work between you and the renter, this might be ideal.
External training/managing
Sending out your staff to work elsewhere is another option. Subcontracting managers out to other businesses has multiple plus points; they could become trainers or tutors, teaching individual skills to other companies on-site or online. Not only is it a quick win financially for just a few hours, but it's also a great way of getting your name out into the community and emphasising the values you instil.
Related posts: