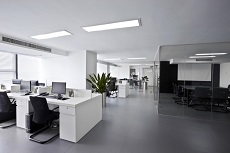 It's good news! Your business is growing. You're finally starting to come out of the red and into the black. If you're bootstrapping, that's good news – you may finally be able to pay off that loan or credit card. If you're relying on angel investors, they'll be happy to see you grow too, because that means an ROI for them in the end. Either way it's time to make some moves. You may want to hire that gun software engineer or copywriter, or invest in a new project management platform. Or, you may want to consider upgrading your space. Let's check out what an executive level office can offer a growing business.
Why Do Startups Need Office Space?
There's a few reasons why a growing startup should look for office spaces for rent. Let's unpack this a bit more with four key points.
Impressions Count
Especially first impressions. In fact, you could say that first impressions are the only ones that count. Let's say you're a step away from snaring that client, that big fish that could make or break your business. And you invite them to a meeting. In your den, or shabby office downtown. They come in and look around, not exactly getting the impression of a fresh, innovative company. And not exactly overly keen to spend their money on you. The same applies to a potential investor. A modern, executive level office with all the bells and whistles gives a stunning first impression of a successful, driven and motivated firm – which is what clients and investors want to see and pump capital into.
Meetings, Meetings and More Meetings
No SME goes anywhere without meetings. While online platforms like Slack make it easy to collaborate in the digital space, there's still room for real life, sit down and talk it out meetings. Especially when outside stakeholders come to the table. Occupying a modern office space with all the facilities to enable you to meet and discuss important stuff is essential for any growing business. And also, circling back to the point above, meetings are another way to make a great first impression.
Attracting New Staff
Growing businesses need new staff to help them grow even more. And talent will come to the most attractive space. If you're looking to recruit the best in the game then you need a space that will be like honey to bees. That gun new recruit may shy away from working remotely while you continue to operate from home, or take one look at a shabby office and run the other way. Having an executive office space will snare, and keep, the talent that will drive your profits. While we're on the topic of staff…
Accountability is Everything
Say the majority of your workforce is freelance, or remote, or both. It's hard to keep tabs on them, isn't it? How do you know if they're actually working for you, or putting in the minimum of effort while in their dressing gown with Netflix on? Having an office for them to come and work from ensures that you're getting the most bang for your buck. Don't hover though! No one likes a helicopter boss.
Here's Why Your Business Needs Executive Office Space
You need it to attract and retain top talent. You also need it to keep that talent at their peak and accountable to you. You also need to make a shining first impression on investors, clients and other stakeholders. Finally, you need a great space to hold those all-important meetings.
Related posts: