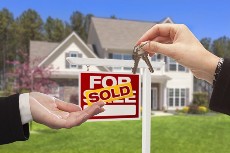 Feeling a bit jaded with the traditional housing market? Maybe it's not treated you very well in the past. Or perhaps you've had your home on sale at a good price (you think, anyway) for a while now and no-one's stepping to the plate. Whatever the specific reason, this kind of situation can be dispiriting. But maybe you're not thinking outside the box enough.
Outside the box? Unconventional? Unorthodox? Isn't that just a recipe for disaster? I can sense you asking me these questions. Well, in the bitter battle that is the housing market, sometimes you need to take a step off the beaten track. Here are some of the selling and advertising methods you may not have considered.
eBay
Did you even know you can sell your home on eBay? It's not just a place to sell manga, old shoes and corn flakes that look like North American states. As you're most likely aware, eBay draws an astonishing amount of Internet traffic. It is, after all, the 22nd most visited website on the Internet. So, you can get a lot of eyes on your property. You need to make sure your home looks great on the item page that prospective buyers will see. Get your house looking as prim and proper as possible and get as many photos on the page as eBay will allow. If you have a wide-angle lens, take photos using that to ensure as much detail and width as possible. Don't have one? Consider renting one for a few days!
Real Estate Investment Company
A lot of people forget that there are companies out there willing to buy homes from you. After all, real estate is one of the hottest assets out there right now. So of course, there will be entire businesses specialising in homes for sale! Many of these companies are aimed at people who are looking for a quick and fair sale as opposed to those willing to wait for the maximum value. So, if you're really in a "I need to sell my house fast!" mode, then this could be the best option for you.
YouTube and Everyone's Favourite Websites
If you're not feeling too camera-shy, you could try this one. Make a video tour of your house and put it up on YouTube! This can help you bring a personal touch to the selling of your house without having to invite a lot of people for public viewings. After all, if you don't have a lot of time then you probably don't want to arrange several face-to-face viewings! Consider making a video that shows off all the rooms in your house in as much detail as possible. Once it's uploaded to YouTube, you can share it on pretty much any website you want. Social media platforms like Facebook are great, thanks to their sharing capabilities. Craigslist and Yahoo! are also great thanks to the heavy traffic they receive from people looking to buy homes.
Related posts: