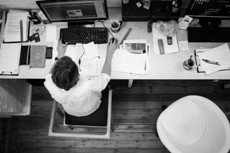 Life as an entrepreneur can be like that old quote about war: brief moments of pure adrenaline rush followed by extended periods of tedious marketing and administrative work. Fortunately, it doesn't have to be quite so grim. You can make working for yourself work for you with these 10 great tools that help entrepreneurs.
123ContactForm
How many times have you been on the receiving end of an incomprehensible voicemail from someone interested in your business? They sound enthusiastic, but you can't even make out their name, let alone what service they're interested in. Or maybe you've spent ten minutes on the phone with someone, only to discover that they don't have the budget to work with you. Or maybe you call someone by the wrong name because you misheard their phone message. Thanks to 123ContactForm, you can solve these problems forever.
Contact forms are amazing for entrepreneurs. A good contact form gathers relevant information about potential clients, providing the background you need to make a sale or prioritize contacts. And good information is the lifeblood of sales and marketing.
123ContactForm is flexible too. You can use their forms to provide a better support experience for existing customers, or create an attractive sign up page for your newsletter. You can collect user feedback with surveys and polls and take payment with integrated payment features. And once you have all your information, you can connect with third-party apps like Mailchimp, Google Drive and ZenDesk to put that data to work.
Moz
As any entrepreneur knows, in the digital world, building it no longer means they will come. Successful businesses are built on the back of search engine optimization (SEO), driving your business to the top of major search engine results pages. The better your SEO, the more visitors you'll see. And with artful use of SEO, you can even confirm that most of your visitors are ready to open their wallets to buy exactly what you're selling.
If you're new to SEO, you can use Moz's detailed Beginner's Guide to SEO, which is packed with practical information you can use immediately. Once your feet are wet, use Moz's collection of industry-leading keyword optimization tools to find the right keywords for your business. Their Keyword Explorer is invaluable for finding long-tail keywords that will help you reach the right audience, helping you evaluate what keywords to optimize for and where to spend your ad dollars.
Fiverr
When you're first getting your business off the ground, finding clients is a major pain point. Freelance marketplaces like Fiverr aim to solve that problem by collecting tons of freelancers together in one website, drawing potential clients in with a huge pool of available talent and an easy workflow. Working through a gig marketplace like Fiverr is a great way to build your client base and gain experience in your industry. And when your business takes off, you can use Fiverr to hire freelancers with the skills required to keep your business growing.
Asana
A disorganized entrepreneur is an entrepreneur that won't last long. If you want to succeed in business, you need to stay on top of your game with a personalized strategy for getting things done, and Asana can help. Asana is project tracking software for you and your team, helping organize responsibilities and next steps to let you reach your goals on time. The card-based interface is well-designed, with features from to-do apps like Wunderlist and project management apps like Trello. And like the best of those apps, once you start relying on Asana, you'll wonder how you ever got anything done without it.
YouNeedABudget.com
A lot of us become entrepreneurs because we're seeking financial independence. Of course, we all hope for a time when we can spend money like water, but until we get to that blessed day, we need to watch how we spend our coin. That's why the road to that independence starts with smart budgeting.
YouNeedABudget.com helps you build—and stick with—a budget, making it possible to reach your financial goals. It's not full-on accounting software, but it integrates with your bank to track where and how you spend your money. It then organizes your spending into budget categories and displays that data in useful reports.
Where YNAB differs from other budgeting apps is in how the company approaches the emotional aspect of overspending. Rather that treating budgeting solely as an information problem, YNAB also helps users get a better handle on what makes them overspend, with classes and lessons designed to teach good personal financial strategies. Their cold-eyed look at your finances combined with some empathetic guidance might help you avoid overspending.
HARO
Help A Reporter Out, or HARO, is "the most popular sourcing service in the English-speaking world." It connects bloggers and journalists with the sources they need to write compelling stories. HARO processes more than 50,000 requests for sources every year from some of the biggest names in the business, including Reuters, Fox News and The New York Times.
How does that help entrepreneurs, though? Well, you don't need to use HARO as a journalist: you can also use it as a source. Register with HARO as one of nearly half a million expert sources available through the site, and you'll receive source requests three times a day. Then, pitch reporters to be included in news stories that are relevant to your industry. You secure valuable—and free—media mentions, increasing your notoriety and driving backlinks to your website. And once you're in a story on the New York Times' website, you can slap their logo on your homepage under "As Seen On" for some serious entrepreneurial cred.
Stormboard
Stormboard captures and generates ideas through intuitive brainstorming software available on nearly every platform, from Windows 10 to web browsers. It uses virtual sticky notes to collect and organize input from a variety of sources. Stormboard's strength comes from robust tools and flexible input. You are your team can use it like a whiteboard, scribbling down ideas as they come to you. Or go for an intuitive approach and upload images and video to create a mood board. Or you take a more verbal approach, with linked text and files to outline an idea. And when it's all ready to share with collaborators, you can use built-in sharing tools to gather feedback.
Strikingly
Strikingly is a web building tool trusted by creatives and entrepreneurs around the world. With zero web design knowledge or coding skill, you can create a functioning, attractive website. You can build an amazing landing page from start to finish inside an hour, and have clients rolling in minutes later. Strikingly include domain name management, hosting, analytics tools, a blog, a simple store interface and more, allowing for more complex designs as your business grows.
99Designs
The importance of well-executed and appropriate design to a new business is almost impossible to overstate. When potential clients visit your website, one of the ways they assess your credibility is through your design: logo design, web design, product design and more. The way these things look sends crucial subconscious signals about professionalism, trustworthiness and skill. And when clients compare similar companies, they'll gravitate towards better design.
If you're not a design pro, you can use 99Designs to connect with the freelance designers that will help your business stand from the others like it. All you do is create a brief and choose your budget. Freelance designers in the 99Designs network then bid on your project, submitting their proposals. You choose the one you like, and away you go!
LastPass
It's a fact of life now that hackers will periodically hack huge companies, collecting piles of account credentials and selling them to the highest bidder. There's not a lot you can do to avoid getting caught in such attacks. However, you can reduce your liability by using unique passwords for every single website and web service you use. See, the major damage from these attacks comes not from compromised Dropbox or Adobe accounts, though these are valuable. The damage instead comes from hackers trying those same credentials on other, harder-to-hack websites like Facebook and Bank of America. And often, they get in.
Everyone knows that unique passwords are important, of course. But creating and remembering dozens of unique passwords is virtually impossible. That's where LastPass comes in. It's a password manager that securely saves and organizes your passwords, auto-logging you in to website from your desktop and mobile device. It can generate new, ultra-strong passwords for your accounts, replacing your old duplicate passwords with strong, unique passwords. This way, when a company you use does get hacked, attackers can't plug those credentials into Gmail and have you—and your business—at their mercy.