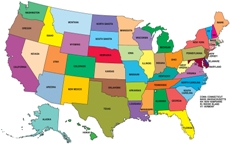 Geography doesn't seem to matter much in the age of the internet. However, even companies operating entirely in the cloud need to be based somewhere. In the United States, some states maintain a reputation for being business-friendly year in and year out, enticing many startups to flock to their borders to open shop.
For instance, five years ago we pegged Utah, Texas, New Hampshire, Georgia, and Colorado as some of the best states for small business in terms of tax-friendliness and other factors. In the time which has passed, not much has changed. Sure, the exact rankings vary year to year and the criteria changes depending on which entity is doing the study, but these states still hold strong for attracting businesses.
Why though? We decided to take a closer look:
UTAH
Most folks think of Mormons when they think of Utah, but business savvy individuals are more likely to think about the state's flat 5% income tax across all brackets. This also applies to corporations. In fact, the bread and butter of Salt Lake City accountants tend to be helping small businesses take advantage of these tax breaks and guiding them around common pitfalls of running a first-year business.
Furthermore, when compared to other major western U.S. cities like Denver, San Francisco, Seattle, and Portland, Salt Lake City has some of the most affordable real estate around. This is more than enough reason for more than one business to choose the Beehive State for setting up shop.
TEXAS
What makes Texas a great state for small business? In short, lots of space and very little regulation. This means low operational costs, all said and done. Partially reflecting this status is the fact a recent analysis of top ten cities for good jobs includes both Austin and Houston.
While the laid-back approach to environmental protections and zoning practicalities has no shortage of critics, many point to these factors as to how Texas manages to remain a competitive sector of the country; it allows for a higher volume of business ideas to stretch their legs and have a go. Many fail, but many more succeed than they would if stifled by over-regulation and the bureaucracies of the east coast urban cores.
NEW HAMPSHIRE
Most people don't think of New England when imagining a region of the US with a business-friendly environment. In fact, images of Boston, Providence, and New Haven tend to evoke feelings of repression and depression to many entrepreneurs, ironic considering the region's role as the birthplace of the American revolution. Yet not every state in New England is so tough on business.
New Hampshire, due to a friendly attitude to LLCs, is consistently considered one of the best states for small business. Additionally, New Hampshire has no income or sales tax at the state level.
GEORGIA
The Peach State is sweet to businesses big and small in many ways. Major business tax reform which occurred within the last ten years has established a variety of detailed incentives for companies across many industries. These include manufacturing, inventory management, and even movie and television productions choosing to film in Georgia. It's no coincidence some of the most popular shows on TV now are filmed and/or set in Atlanta.
COLORADO
A state which prides itself on fostering rugged individuality, it's no surprise Colorado makes it easy to start a business within its borders. While the high cost of living, competition, and local regulations of an urban center like Denver may turn away some, it remains relatively business friendly when compared to other major cities across the United States, with the exception of Salt Lake City. Furthermore, budding industries in Colorado are generating new business opportunities every year, with billions flowing into the state through tourists every year.
At a time when nearly everyone is communicating, consuming, shopping, and working almost exclusively online, it's easy to overlook the importance of geography when it comes to running a business. With the way things work in the US, the matter boils down to which state to set up shop. While there is much to debate in terms of the ways in which these states are ranked, who does the ranking, and how such a list changes from year to year, it's safe to say these five states are steadily good for business. In fact Forbes features four of them in their most recent top ten list, with only New Hampshire missing.
It's worth noting, however, that US News ranks New Hampshire #11 in terms of states with the best business environment.