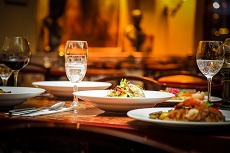 Having a quaint little café or restaurant can be enough for some, however, other small business owners imagine branching out and opening in neighboring locations. Business expansion is usually a consideration most businesspersons have; yet, very few manage to open a second branch successfully. Many will simply replicate the existing café or restaurant, instead of creating a similar concept with a twist. Once you've ironed out all the details, it's time to consider means of expanding your business's expansion into new territory.
Food Trucks
Food trucks are proving popular; especially in town or city markets, or in squares and city centers. Usually, food trucks are excelling in unique foods and drinks; providing a certain quirky experience as well as delicious foods. Many food trucks are how chefs or aspiring restaurant/café owners start their business as they move towards their goals of opening a brick-and-mortar store. However, this doesn't make opening a food truck any less of a business adventure for those who already own a brick-and-mortar business.
Buy a truck and do it up; paint the outside and ensure it's equipped. Create a menu that is small, simple, but highlights your business's specialty; try to be original, however, make sure your food isn't a fad. Travel around your home town or city, and venture into new locations. If you find a place that's welcoming to your food, consider expanding your restaurant there.
Delivery
If you're unsure of opening a brand new store (whether it's due to financial reasons or simply being too much of a risk), then opening up a delivery/takeaway service could bring in more cliental without the stress of opening and managing a new store. Before advertising a takeaway menu, make sure your kitchen is fully-equipped with both enough staff and appliances. Also hire delivery staff and ensure they have the correct equipment. If you're living in a metropolitan city, consider buying motorbikes as they are faster than bicycles and more moveable than cars. Provide them with motorcycle helmets, florescent jackets and appropriate motorcycle pants.
Franchising
If your brand is well-known, you could open up another store and offer it as a franchising opportunity. Not only does this expand your business, but it also limits the stress because the store will be managed by someone else entirely. For you to franchise your business, it's best that your restaurant is turning a profit, is reputable, and has a stable business plan.
Sister Location
Before you open a sister restaurant, you must go through the entire process of opening up your first business again. Although your business may be successful, and your knowledge wealthier, that does not mean you can cut corners when opening up a second business. Create a business plan, meet with your advisors and accountants; discuss your sister company's theme, location and funding. You must decide whether your sister business will only serve the parents company, or whether it will manage to stand on its own two feet. You should also consider where the funding is going to come from – your own bank account or through investors.
Related posts: