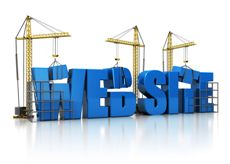 In the very early stages of your business, establishing an online presence can be crucial. Having a space where your customers can find out more information about your products and services can dramatically increase your conversion rate. This online space can also be a way for new clients or customers to find you, especially if you offer a service that is not reliant on location.
Creating this first website can be tricky, especially if you are a solo entrepreneur or have a very small startup budget. You may not have the funds to hire a professional website developer, but if that is the case, there is hope. Even with little to no HTML knowledge, there are plenty of ways to create an impressive and user friendly website.
Use a free website builder
Using a free website builder, such as Webeden or Wix, will take away most of the specialist technical expertise needed for creating a new website. These types of tools will allow you to pick a template that best suits your business' needs.
It's always best to write down a list of everything you want your users to be able to do before choosing a template. This list, as you search for the best template, will help you make the right choice for your business. It's worth noting that if you need any custom features, you would need to be able to edit the sites HTML, so try and keep your site requirements as simple as possible.
Another benefit of these website builders is that they are designed with mobile, desktop and tablet usability in mind. This means that no matter which device your users choose to view your website on, it will always look professional and have full functionality.
Purchase a premade theme or template
If your site requires a more custom approach, you could use a platform like WordPress and purchase a premade theme from an online marketplace, including Theme Forest or Creative Market. These sites offer templates that have been created by developers and can often be highly customised to fit your needs.
However, keep in mind that this way of creating your website, may require you to learn very basic HTML, unless you purchase a theme that has all of the functionality you need straight out of the gate. You may have to browse hundreds of templates in order to find the perfect one, but this could be an option if you need a completely unique website.
Research into how to create professional imagery
Something that helps users determine a professional and trustworthy website, is the quality of the images. Poor quality photographs and images can make a website look amateurish and instantly creates doubt in the user's mind about the sites' legitimacy.
There are many tutorials online to help those with limited photography skill, to create amazing and attractive flat-lays and product photography. You don't need a DSLR camera in order to take great quality images, most of the time it is down to your lighting. Finding a natural and bright source of light can make all the difference and give your images a crisp clear quality.
You can also purchase affordable photography accessories such as light boxes, white screens and box lights, from eBay or Amazon. These little tweaks could make all the difference when it comes to creating your websites imagery
Your business' website is an online representation of your brand and services. It is important to accurately get across what your business offers, what its core values are and target audience, all through the copy and design. Choosing a website builder for example, can help you set up a site within minutes and tick all of those boxes without you having to worry about web development.
Make sure you pre-plan your website before diving into the development process and you'll be able to smoothly create the perfect website for your business.