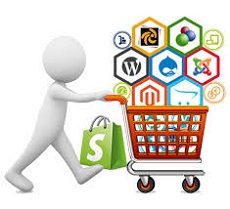 Unless you have been hiding in a cave in the last year you will know that the world of business is changing radically. Businesses that do not have e-commerce strategy or, at least, online presence are soon going to be headed towards extinction. If you need validation look no further than the rise of Amazon. This ecommerce juggernaut that started several years ago as a website to sell books has grown into a giant that is shaking many industries at their core. Just a rumor about Amazon moving into their industry is enough to put fear in the executives of the industry. Companies such as Macy's and JC Penney have lost billions in market value recently because of the rise of Amazon in the retail industry.
If these large companies are not immune from the threat of online ecommerce, small businesses do not stand a chance to compete. Which is why it is crucial for any small business owner to have an online strategy. When you consider the amount of time people spend in front of their computers and phones it is not surprising that online business provides a great opportunity for small business owners not only to survive but grow their sales and profit.
Now, just creating a basic website and putting your company logo is not going to cut it as online strategy. You need to understand and deploy a comprehensive strategy to attract and retain customers. Fortunately, it is not as difficult as it sounds to have such a strategy. The advances in online and website software have made it easier than ever to create an attractive website and roll out an online strategy to reach to existing and potential new customers. Below we describe key elements of online strategy.
Build a Website – This is a no brainer for anyone wishing to deploy online strategy. It is like building a storefront to advertise and sell your products and services. Unfortunately there is lot of misconception about the amount of technical knowledge required to build a website. It used to be that creating a website was a domain of few technical experts. Now a days thanks to advanced free website Builder tools such as Wix it has become easier than ever to build and maintain a website. Wix has created a user friendly software that makes the website building task a breeze. The drag and drop functionality of the software lets you build a website with just a few clicks of the mouse. They also have hundreds of templates that are tailored for many industries. You can choose the template that suits your industry better and customize it to give it a unique look to match your brand.
Boost SEO Ranking – Creating a good website is a start, but by no means sufficient. There are thousands of websites out there, which will make it difficult for yours to stand out, unless you use the extra features available in Wix. One of the key features you must employ is Search Engine Optimization (SEO). SEO refers to optimizing your website such that it gets higher placement in search engines such as Google, Bing, etc. when user searches for the products or services you are selling. Obtaining that coveted ranking in the first page of search results can provide huge traffic boost to your website. Again, you do not need to be a technical wizard to be able to achieve this status. Wix SEO Wiz enables you to customize your website parameters that makes it "SEO friendly" and enables it to achieve that coveted place on the first page of the search results.
Promote Your Website – In addition to making the website SEO friendly you also need to proactively promote it to potential customers. Social media has become de facto a hangout place for everyone. If you are not putting your website in front of those potential customers in social media channels such as Facebook, Twitter, Instagram, YouTube and so on you will miss out on a great opportunity to be in front of potential customers. In addition, there are a number of online directories that compile lists of businesses in a number of categories. Wix has put together an impressive list of places where you can promote your website.
Interact with Visitors – Attracting visitors to your website is one thing. Keeping them engaged and converting them to paid customers is another. Simply listing your products and services on the website will not make those visitors buy your products. You also need to actively engage with them when they are visiting your website. Research shows that catching the visitors when they are visiting your website via chat or other means can improve your conversion ratio significantly. Holding their hands and guiding them to find the right product that matches their needs will help you seal the deal. It will also make them a lifelong customer.
As you can see, "build it and they will come" is not the right strategy when it comes to increasing your online presence and growing your business. Fortunately, online tools such as Wix have made it easier than ever to deploy comprehensive online strategy to help you become the next Amazon!