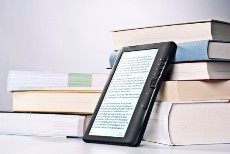 Communication has come a long way since Morse developed the telegraph in the 1830's. From the radio to the television and computer, advances came along thick and fast in the 20th Century. But the advent of the internet truly revolutionised the world of communications. Unbound by geographical location, businesses can reach anyone, anywhere instantly, informing and collaborating on an unprecedented level. With the dawn of the digital era, many predicted the decline of print media, but recent data indicates that this isn't necessarily the case. Here are three key demographic and geographical factors shaping the future for this sector:
The rise of children's literature
According to the 2016 Nielsen survey, 2016 saw a 4% decline in eBook sales, while sales in bookshops in the UK achieved a 4% rise. This was the second consecutive year that eBook sales have shrunk, and while the 2015 drop was attributed to the popularity of adult colouring books and popular fiction such as 'The Girl on the Train' by Paula Hawkins, the 2016 rise was mainly down to increased sales in children's fiction, in particular, the latest Harry Potter instalment 'Harry Potter and the Cursed Child'. The reason for this is simple – a book is a sensory experience and children like the look, feel and smell of a new book. Books also provide a welcome break from their increasingly digital world and the pressures of social media.

Interestingly, supporting the choices made by children, latest neuroscience research indicates that reading hard copy has a greater impact than digital media, and we retain a better memory for information read on paper than on screen. How this research will translate into the classroom remains to be seen, but might herald a move away from the use of mobile devices within education.
Newspaper sales are shifting
The way we access news has changed, today it's 24/7 and the demand for instant coverage of events can only be met by online news outlets. But with this insatiable appetite, the quality of reporting has declined and a lack of verification has led to the appearance of 'fake news'. As a result, newspapers are increasingly seen as more trustworthy. But while being of higher quality, newspapers no longer bring in the advertising revenue, falling far behind digital media. Also, as most of loyal readers are over the age of 60 – who grew up with this as part of their relaxing, daily routine – the future for newspapers seems far less certain than books. Maybe readers will get fed up with the frenetic pace of news websites, being bombarded by adverts, distracted by un-newsworthy videos and lured by 'click bait', but online news outlets do provide an additional dimension that newspapers cannot fulfil – the ability to leave comments and feedback, as well as easily share pertinent content.

So, is the newspaper doomed? Maybe the decline in the Western World is inevitable, but specific markets do still favour print. This is borne out by the fact that the largest circulating English language paper is in fact The Times of India. Indeed, over 100 million newspapers are sold daily in India – with KPMG predicting growth rates of 12-14% for the next few years. Many factors drive these statistics – a rapidly expanding middle class and the fact that some 80% of the population still lack basic internet access. Low delivery charges and the popularity of advertising, particularly for traditional matchmaking services, also drive up sales.
Direct marketing – targeting millenials
Surprisingly, given the fact that they have grown up in a digital world, millennials are more likely to pay attention to print media than digital advertising. Being bombarded with digital advertising means this is generally ignored, while printed items seems more trustworthy and authoritative. This is good news for the world of print media and should ensure a strong future for direct marketing. According to Mark Fidler of Tower Press, "Marketing companies shouldn't underestimate the emotional connection people have to the touch and feel of printed items. We see many clever marketing strategies that now incorporate a mix of digital and printed content, using QR codes and augmented reality to draw in customers and direct them to digital content".
So, does the future for print media look positive? In certain demographics and geographical areas, but as developing nation's transition to a digital world, companies will need to innovate and find a way to combine digital applications with print. We should never compromise quality for quantity and underestimate our sentimental attachment to reading from paper rather than a screen. After all, wouldn't we all rather receive an actual birthday card than a social media message?
Related posts: