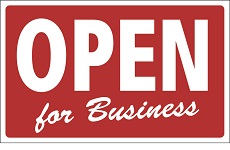 Starting your own business can be both demanding and exciting. While you may be itching to execute that idea you have in your mind for so many years there are few necessary steps you have to take before you can light up the "Now Open" sign. These involve government regulations and taxes, finding a workplace and letting the world know about your business. Continue reading to find out what do you need to do before you can open your doors for customers.
Taxes
This shouldn't be a surprise because everyone, including businesses, needs to pay taxes. However, before filing for a business, you will need to complete a form for an Employer Identification Number, or EIN number. The fastest way to complete and submit an EIN form is to do so online. However, you also have the options of mailing or faxing, which can take two to four weeks. Keep in mind that there is a four to five week wait between obtaining your EIN approval and being able to file taxes- so budget your time wisely.
Work Space
Your work space will depend on your type of business. For instance, if you are starting a dance studio you will need a space with great floors and large mirrors with minimal furniture. On the other hand, if you have a medical practice, you will need to bring in specific equipment. Even if your business is online only, you will need a space where you can work in peace, an internet connection and possibly a space to store inventory.
Marketing
You will need to get the word out about your new business, which will include starting a website and engaging in social media. If you aren't great online, or simply don't have the time, hiring someone to promote for your company before you even open your doors may be a smart investment. It is recommended that you oversee the initial work with any new hire to ensure that your business is presented in a way that fits your preferences.
There is a lot of work when starting a business, but it is certainly doable. Staying organized and taking things one day at a time will help you on your road to success.
Related posts: