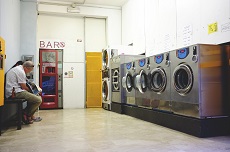 Starting a commercial laundry business is a golden opportunity to cash in on a profitable small business venture. Everyone wears clothes, and many of them don't have the time to maintain and care for their apparel. Your job is to care for their clothes, on their behalf, in exchange for cash. Very simple isn't it. But how do you start a laundromat? What do you need to begin regarding commercial laundry washing machine, capital, human resources, etc.?
Start With a Plan
Your plan must include a thorough business plan that details everything you need to start. You need money, no doubt about that, but hopefully not a figure that will give you sleepless nights. Rough estimates show that you can start a small laundromat with $300,000 or close to $1,000,000. Don't forget to put into considerations the most important things including location, marketing, human resources, etc. You should also choose energy efficient clothes dryers and consider licensing, and know the cost of commercial washing machine. Without these, your business can't exist.
Building, Licensing, and Equipment
Building costs should include property value and the price of remodeling to suit your needs. You will have to install sewer access, commercial laundry washing machine, electrical outlets for equipment, and new water pipes. You also need to know the cost of commercial laundry washing machine and lease or purchase new equipment for your business. To succeed as a laundromat, you must have high-quality equipment like Electrolux gas dryers and of course, a friendly and professional personnel. Get a business license before you open your business. You may also need to get a sign permit, water pollution control permit, and a permit with the health department if you're going to be serving food in the shop.
Study the Competition
The location you choose will become the primary factors that will determine the success of your business. Look for an appropriate site that gives you fast and easy access to your consumer base. A laundromat located in a residential area or near hospitals and schools will grow faster and make more money than the one based in an industrial area. Study your competition and know what they are providing their clients. If they offer home delivery or any other special services, you must offer those too to be able to compete. Find out what they are not doing right or not offering at all, and improvise.
Running the Laundromat
Starting a commercial laundry business is the easy part, the hard part is running the day-to-day activities. Your business must have a personality that resounds with the customers and sets you apart. You must be friendly, caring, and ready to listen and provide a satisfactory solution when things go wrong. Take part in customer relations and manage every aspect of your employees' interaction with your clients. You must also take hygiene seriously by mopping the floor, cleaning the windows, and emptying the rubbish bins every day.
Successful laundromats pay their taxes and don't joke with bookkeeping and proper management. Be ready to face the challenges. Issues regarding missing or burnt clothes, water supply, electricity, space, and laundry washing machine breakdown should be dealt with. Don't forget to have a solid plan, choose energy efficient clothes dryers, get your license and permits, study the competition, and run your business like a professional.
Related posts: