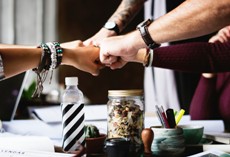 While not all businesses will survive, it is still worth to give yours the best shot. One of the best ways to succeed and grow your enterprise is to give you adequate protection against situations that can drain your cash flow. You need to have insurance for small business at Next-Insurance.com.
But with a limited budget and so many kinds of insurance in the market, it may be challenging to take a pick. So for starters, make these your priority:
Workers' Compensation Insurance
Workers' compensation insurance isn't just for your employees but also for you and your business. It is a good way to reduce the risks of paying huge damages when employees sue you for negligence if they meet an injury or accident while performing their duties. In exchange, you are responsible for ensuring they receive wage replacement and money to cover for their medical expenses, among others.
The law that regulates this insurance is complex and varies among states. In California, for example, virtually all businesses should have one, and the coverage can extend up to the directors and corporate officers. Otherwise, you can be charged with a misdemeanor, which carries a penalty of one-year jail time, up to $10,000 payment, or both.
Auto Insurance
Except for New Hampshire, state laws require you to carry an auto insurance coverage, especially if your business is going to use the vehicle. Note, though, you cannot use you standard policy for your business. One of the reasons is the differences in limits.
Due to the nature of your business – where vehicles spend more time on the road – the risk of bodily injury and property damage is high. As such, the minimum limits are significantly higher. A small business, for instance, may have to obtain $500,000 worth of coverage.
Health Insurance
Under the Affordable Care Act, also known as the Obamacare, companies that have 50 or more full-time employees need to provide a health care coverage, or else, they could face a tax penalty. But whether you're a small- or medium-sized business, health insurance coverage is essential for a lot of reasons.
One, it protects your cash flow from employee claims if they get sick while doing their work. It can help bring good talent to the business, and it can help improve your employees' well-being with an easier access to consultations and treatments.
Business Insurance
The term "business insurance" is broad, so it can mean the following:
Protection against losses due to non-payment of your clients
Product liability insurance in cases where your products have caused harm on your consumers
Property insurance, if you have valuable assets in the business
Home insurance, if you are running the business in your residence
Protection against debts incurred by your business partners as well as corporate officers and directors
Business Interruption Insurance
While property insurance insures your building, this one protects your income. Disasters can happen anytime, and whether you like it or not, they can have a huge impact on your operations. In the end, they may force you to close for a few days or months as you rebuild your business. This coverage sees to it you can recoup your income losses while you're in the process of rebuilding.
Granted, these insurance policies cost something, but their value always outweighs the costs. Just because you're a new player in the business doesn't mean you can choose to skip getting insurance. In fact, now is the best time to do so. This way, you can direct your profits and cash flow to core business functions instead of preventable expenses.