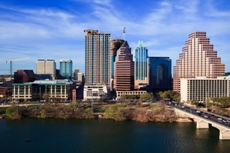 Austin, Texas is one of the most rapidly-growing cities in America. The Census reports that on average, more than 100 people move to Austin on a daily basis!  This number gives businesses all the more reason to relocate of expand to Austin—a growing population means a growing workforce, with lots of new and young talent to be explored. But let's face it, not many people can hold a good secret, and word travels quickly when discussing the best places to have a business.
So why exactly should you expand  your business to Austin, TX? Austin is one of the hottest places to be right now and we're not only talking about the weather. If you didn't know, Austin has excellent job opportunities for the experienced population, young entrepreneurs, startup tech companies, and even musicians. If you're thinking about growing your business and need reasons why you should expand your business to Austin, here are five terrific reasons.
The population is accelerating one graduate at a time
Austin is a fantastic destination, especially if you're planning to attend college or a university.  With many high-ranking universities like the University of Texas, Austin Community College, and Saint Edwards, you have access to thousands of fresh minds and talents. Combined with Texas State University and Baylor University, there are close to 100,000 students in attendance. Add to that a high percentage of the students graduating each year, and you'll have no trouble finding young, motivated, and savvy talent.
No matter where you live, location is everything
Centrally located, Austin is about two and a half hours to Houston and about an hour and a half to San Antonio, not to mention it's just over three hours away from Dallas. This means you're literally in the middle of everything, so if you have a business meeting in Houston, by US standards you don't have very far to go. You'll be able to commute from city to city if need be without much hassle at all.
The cost of living and business expense
Much to your advantage, Texas has its own way of handling business. They do not impose a corporate or individual income tax. What does this mean to you? If you expand your business to Austin you are exempt from certain expenses, when it comes to business overhead, which makes your taxes lower than other states.
How can the local government afford to do this? Thanks to the production of oil and gas, which comes out of the state, you don't have to pay out as much in taxes. With this in mind, the cost of living is lower as well, and with the influx of new people, calls to local builders like ZH Custom Homes in Westlake are increasing daily.
The weather is near perfect year round
What's the weather like in Austin? No doubt it's hot in the summer, but it's dry heat. It's the south, so one can expect to be able to tan and enjoy water activities about 8-9 months out of the year. With that said, the temperature range is 60ish in the fall and you'll see highs in the 90s during the summertime. Be that as it may, it may snow in Austin, but nothing like Colorado or Chicago.  You'll be okay if you leave the snow chains at home. If you live where it constantly snows all the time, this may be a welcome change.  Although the sun beams mostly during the spring and summer, there must be a balance of rainfall. It's one of the reasons why Austin is so beautiful with its dark green spaces and picturesque gardens.
Expand your business to Austin, TX for its borders
Austin has so much to offer, including its international proximity.  With it being so close to Mexico and other coastal ports, it's extremely easy to do business on an international level. The city is doing more investment business than before. Consequently, the airlines are taking advantage of the traffic. The Austin-Bergstrom International Airport happily reports an increase of arrivals and departures.  In addition to all of this, Texas is home to numerous celebrities and Austin is receiving plenty of public attention because of it. And because of the new business professionals who reside there, the influx of air travel and international visitors help the local business sector in general.
With the number of Fortune 500 companies moving into Austin, wouldn't it make sense others will follow? Giants in the technology industry will relocate as a matter of convenience. Besides that, Austin hosts plenty of popular events throughout the year. Events such as the Austin City Limits, a multicultural music festival, bring in a boat load of revenue for the local government, privately owned businesses and their communities. So with all this professional, personal, and cultural benefits, why not consider Austin?