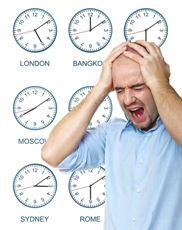 If there is one thing that strikes fear into the heart of most business travelers, it has to be the prospect of traveling through a bunch of time zones and facing jet lag once they step off the plane. This can be a real nightmare for business trips as there usually isn't time to recover and catch up on any sleep. It's often non-stop meetings and conferences, and all while trying to shake off that pesky jet lag!
There are a few hacks and tips that can help your employees cope better during their business travel adventures, though. These business travel hacks can really work wonders.
Invest in an Apartment at the Destination
The chances are that all of your company's business travel will be to the same destinations. That's because you will already have clients or an international office at that location. So, if your workers are regularly traveling back and forth to this one location, you will find it very beneficial to invest in an apartment or home there that all your employees can use while they are visiting. You can hire a property management firm to take care of the property while it is empty. This cuts down the expenses of booking hotels for your employees, and gives them somewhere where they can feel at home.
Always Fly Direct
If you have a lot of international meetings to organize and pay for, you will no doubt want to try and reduce the cost of all this travel wherever possible. One thing that many business owners do is to book indirect flights as they can be a lot cheaper. Even though flying indirectly can help keep your travel expenses down, it can also make it a lot harder to cope with jet lag. That's because it increases the overall travel time, which can make jet lag a lot worse, especially if you have to wait for a few hours for a connecting flight.
Get Employees to Check In Late
If your employees are staying at a hotel for the duration of their stay, it's a good idea to tell them to check in as late as possible. That's because checking in late will increase the chance of them getting a room upgrade. Most upgrades go straight to elite travelers, who always check-in early on in the day. Once all of their elite guests have checked in, the hotel will then offer upgrades to any latecomers. So, encourage your employees to check in as late as possible and then they might get a nicer hotel room in which they can recover from their jet lag.
Save Up Air Miles
It's also a good idea to get all of your traveling employees to start saving air miles. Once they have amassed a certain amount, they can use these miles to pay for better seats in business or first class. This will make for a much more comfortable flight, that can help reduce the effects of jet lag.
Jet lag? What jet lag!
Related posts: