Sponsored Post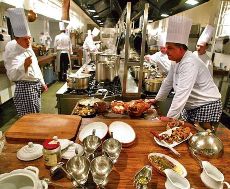 Kitchen Display System (KDS) used to be the domain of large restaurants or franchises such as McDonald's or Taco Bell. Developing and deploying these systems was complicated and cumbersome. Thanks to technological advances and availability of computers it has become easier than ever to deploy Kitchen Display System even in mom-and-pop restaurants. So what is KDS and how can it help you run your restaurant kitchen more efficiently? Before we discuss that let's look at the history of restaurant kitchen management.
History of Kitchen Display System
In a typical restaurant setting, the front counter employee takes customer orders and provides that to the kitchen employees who prepare the food according to the orders. Traditionally, the orders were printed on the kitchen printer that was connected to restaurant's point-of-sale (POS) system. When a server rings up a customer's order, the POS records the transaction and a paper ticket is printed in the back of the house for the kitchen staff.
Many of these kitchen printers are now being replaced by Kitchen Display System. A Kitchen Display System (KDS) is a digital order viewer that replaces your paper tickets and kitchen printers. When an order is rang in through the POS, it is displayed on the KDS so that the back of house can begin the order.
Comparison of Kitchen Printer vs. Kitchen Display System
The upfront cost of kitchen printer is less than KDS. However, you should also factor in the operating cost for both, which is usually higher for kitchen printer because of the need to use specialized printer paper to print the orders. If you manage large restaurant and have a need to print large number of orders daily this cost can add up quickly.
Kitchen printers also pose some issues when it comes to managing them. It is easy for printed orders to be lost. This can lead to longer cook times and frustrated guests, and can also weigh down how quickly you turn tables. In addition, it is not easy to make changes to the order after it has been printed on the kitchen printer.
Kitchen Display System alleviates these problems by providing a seamless computer based solution that makes it easy to manage the orders. Once the orders are entered in the POS system they are displayed on KDS immediately. It is also easy to make changes to the order as long as it is not prepared by the cook. You also avoid the clutter of printed order lying around the kitchen with the use of KDS.
While KDS costs more than kitchen printer it is one-time cost only. The operating cost of KDS is significantly less than kitchen printer. Once the system has been set up it is fairly easy to maintain it without any additional expense.
The advancement of technology has made it possible for even small restaurant owners to deploy sophisticated solutions such as Kitchen Display System to make their operations easier and more efficient. Make sure you take advantage of them.