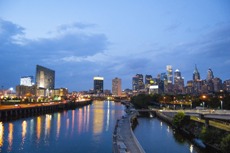 As the economy of Philadelphia grows, so too does the demand for adequate apartment housing within city limits. Philadelphia apartments and their residents are major contributors to the local economy, providing more than $3.5 billion to it each day. Over 533,000 people live in approximately 298,000 apartment homes in Philadelphia. Over 130,000 jobs are supported by apartment buildings, contributing $14 billion to Philadelphia's economy.
Philadelphia is also competing for the largest real estate prize of the decade, the opportunity to host Amazon's HQ2 with the potential to bring 50,000 jobs to the area.  This will create a boom for apartments in Philadelphia the likes of which the city has not seen since Philadelphia was the capital of the United States while Washington DC was under construction in the late 18th Century.
Additionally, new research illustrates that the demand for apartments will increase by the year 2030. In fact, it is estimated that an additional 38,000 apartments will need to be added to the city to sufficiently house the young professionals, families with children, couples and elderly. This accounts for a 10.73% increase in the demand for affordable apartment housing in Philadelphia by 2030 thanks to an increase in the population and more and more people and families choosing to rent versus own their own home.
The population of Philadelphia is expected to increase 2.44% by 2030, and the housing system may struggle to keep up with the demand. As such, it's important to recognize that an assortment of housing choices must be made available to meet the various needs of Philadelphia residents.
Local regulations have proven to be a barrier to new apartment housing construction and development in Philadelphia, earning an index score of 8.2. This means it is difficult to build in Philadelphia, thanks to the aforementioned regulatory barriers, as well as a lack of available land upon which to build. These issues have plagued the city for the last 30 years.
Rents nationwide have entered a recent period of stagnation and Philadelphia is no exception, but occupancy rates in the most desirable areas of the city, such as Center City remain stubbornly high at close to 94%.
As the data demonstrates, new housing options must be made available in Philadelphia in the next decade. This means that the industry must find ways to sustain itself to meet the demand. Therefore, the city of Philadelphia and the construction industry must find new, innovative ways to develop the essential property needed by the city, including new approaches to apartment development, additional incentives to build, and fewer restrictions and developmental barriers.