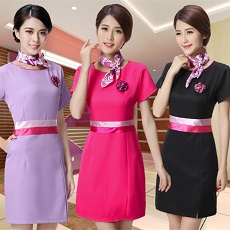 A key part of professionals working in the beauty industry is to make people look and feel good. But that doesn't mean they can't look good too. While it's important to be comfortable, to work efficiently and make customers feel good and at ease, it's possible to be stylish too.
There are places you can go to help create a stylish look for a beauty uniform, from high-street stores selling salon clothing, to the latest selections online like Simon Jersey spa wear. With some thought and simple ideas, you can add some style to your beauty uniform – and here's how.
Design
A first way to create a stylish uniform is to consider design. This isn't just about thinking about a garment's materials, like blends of soft linen, which can always look stylish. It can be just as simple as thinking about elements of clothing, rather than the overall garment, like an interesting neck line, or the way a tunic buttons or overlaps and fastens. For instance, a tunic with a square neck or V-neck can create subtle shapes and stylish effects, while a wrap, ruffle or asymmetrical design can draw attention to a clothing's striking curves and lines.
Details
Another way to create a stylish uniform when working in the beauty industry is to think about small details on your clothing. Little eye-catching details can emphasise style, make your uniform stand out and create a memorable look. This could include a spa tunic with press studs or some stylishly shaped buttoning. The combination of specs of detail, with contrasting materials and colours, such as silver metal on black linen, can help pull together a very stylish, striking, tidy and professional look.
Colour
Colour can be a great way to add style to your beauty uniform, and it can be used in different ways to create big and dramatic or small and subtle stylish effects. For instance, you could choose a bold and fashionable colour for your whole outfit, like a strong red or cobalt blue – primary colours that are both very on-trend at the moment. Or you could wear your colours more subtly, such as a black tunic with a striking trim of bright colour around the edges.
Layering
Layering can also help add style to your uniform by creating shapes and lines, and emphasising the colours you wear. For instance, a garment for a salon like a charcoal high-neck sleeveless tunic could look great over a white open-collar blouse. It could add depth and shape to your outfit, while emphasising the striking blocks of colour. Any aprons you use in your role, like when styling hair in a salon, can be worn in a similar way. For instance, a smaller money purse overlaying a larger style apron to carry your essentials can add shape and style to your outfit.
Grooming
Finally, your personal grooming, hair and makeup are key factors that can add a sense of style to your beauty uniform. Getting the right hair style, choice of makeup and colour can add to your outfit, bring out its lines, shapes and colours, while emphasising femininity and softness. But it's worth bearing in mind that unkempt hair and unflattering makeup can just as easily detract from the image you're trying to create.
So, if you want the style of your uniform to stand out, it's best to choose simple hair styles and consider a subtler use of makeup. Combining this with effective details and design in your clothing, alongside a clever use of colour and layering, can help you build a stylish uniform that makes you feel and look the part, just like your customers.
Related posts: