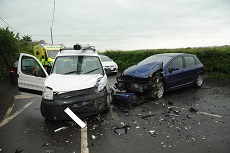 Car accidents are some of the worst experiences that one can go through. It becomes even worse when you are involved in an accident and it takes ages for your insurance company to compensate you. What are some of the things that someone may need to do so that their insurers can compensate them when they are involved in a car accident? A car accident lawyer is one of the professionals that you will require to take you through the process of compensation. The personal injury lawyer knows what is required of you, how to go about reporting the accident and the kind of steps that should be taken to have your car repaired, hospital bills cleared and payment of lost wages as a result of an accident.
Here are 5 tips to help you find the best car accident lawyer:
Look at the experience
If you want the best results for your compensation, you need to choose a lawyer who is experienced enough. It could be easy to get cheap lawyers but they may not give you the kind of results that you need. How do you know how experienced a car injury lawyer is? Well, you could check online. You can also get referrals from people who have been in an experience like yours. This is definitely the best way to get a reliable and trustworthy car accident lawyer.
Choose a lawyer with investigation experts
When you are involved in a car accident, one of the biggest problems that arise is lack of sufficient information to help sue for compensation. This normally happens when you do not have the time or experts to help you in the initial investigations to prosecute your case and get compensated. If you choose a lawyer who has a link with investigation experts, it becomes easy to determine what happened, who is responsible for the accident and the likelihood of compensation.
Before hiring, interview and decide
You do not have to rush to find a suitable car accident lawyer. However urgent the issue may be, you need to interview your lawyer, make a decision and probably hire. You can prepare a list of questions to ask the attorney before you choose to go ahead with your car accident case. Get to know the terms and conditions of the lawyer. Let them inform you of the duration the case will take before the successful conclusion.
Be very clear on your needs
It is always advisable that one should be clear on what they want. Have a list of some of the traits that you require in your car accident lawyer. When you use the list to gauge the lawyers, you can be sure to get the best. How competent are they in handling your case? Can the lawyer explain the entire process of your car accident case? Is the lawyer realistic on the case and can they really give you guarantees that you will get proper compensation? If these questions can be answered in the affirmative, you can go ahead and hire such a lawyer.
Choose local car accident lawyers
Local car accident lawyers would come in handy for your case. The local lawyers understand your jurisdiction and the local environment. As such, when you choose a local lawyer who is experienced in handling the local accident cases, the probability of your case succeeding becomes much higher. These lawyers have the experience and know how to go about the local car accident cases in your state.