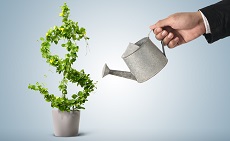 As soon as your business starts to make a profit, you will need to evaluate your investment opportunities. Otherwise, your funds will be left sitting in the bank and relying on a limited amount of interest. In order to make the most of your available capital, you will need to create a clear plan for your future. You will also need to ensure that you are getting the right combination of security and return on investment. Whilst it is important to take risks in business, you don't want to place your entire organization in jeopardy. Below are four investment opportunities for your small business.
Solar panels
If you would like to reduce your monthly bills and impress your environmentally friendly clients, you should embrace the benefits of solar power. Why not arrange for solar panels to be fitted on your company roof? This is a brilliant way for you to create your own energy and to increase the value of your premises. This is also the kind of long-term investment that you should be considering. If your business is going to achieve longevity, you need to be making purchases that will support you in the years to come.
Stocks and shares
Another place for you to invest your money is the stock market. This is an opportunity for you to make some additional capital. Just remember to do your research before you put any of your funds at risk. You should also consider investing in other small businesses. Try to find a business in an area of the industry that you understand, but operate outside of. That way, if your own company has a bad year, your investment is unlikely to be affected. Remember though, that you should only invest money that you can afford to lose – you do not want your business to be compromised by a lack of cash flow.
Your trainee programs
You should also be investing your money in your trainee program. Instead of hiring individuals at a high salary rate, you should take the time to train people up to your standards. This is the perfect opportunity for you to shape your workforce and to ensure no one brings bad habits from their previous positions. It is also an extremely effective way to secure loyalty for your company. Hopefully, your employees will be grateful for the fact that you gave them their start in the industry and taught them everything they know.
Your online platform
In this digital age, you should also be directing funds towards your online platform. This is a highly effective way for you to widen your target audience and to boost the profile of your business. If you are hoping to grow your entrepreneurial endeavors, you will need to make the move online. You should be investing in your website design, creating an online store, and running your social media profiles, to develop your marketing strategy for your business.
Related posts: