Sponsored Post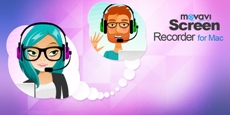 Among screen recorders, Movavi Screen Recorder for Mac is unique software that provides a simple way to record videos from a screen. Users can quickly set up and start recording video footage, while also having access to a wide range of options to customize the recording to fit their requirements.
How it Works: Features and Options
When you launch Movavi Screen Recorder for Mac you will be able to immediately set it to record a specific region of your screen by clicking and dragging the mouse cursor to draw a frame over that area. Alternatively you could set it to record a certain program window by selecting it, or use one of the presets in the interface that will appear afterwards.
In the interface you'll be able to use icons to set the audio source so that Movavi Screen Recorder for Mac records audio from the speakers, microphone, MIDI devices, or any other source. Beside those icons are volume controls that you can use to adjust the volume of each source individually.
Aside from that the options in Movavi Screen Recorder for Mac will also let you adjust the frame rate, set it up to record keyboard and mouse actions, or automate the recording by scheduling it or setting a timer. The recording controls are also present on the interface itself, though it is possible to use hotkeys instead of them if you prefer.
When the recording is complete it will be displayed in a preview window and automatically saved as an MKV video at the same time. It is possible to trim out any unwanted parts of the video while reviewing it, and then save it in a different format with Movavi Screen Recorder for Mac as well.
Pros and Cons
The advantages of using Movavi Screen Recorder for Mac is the fact that it is simple and user-friendly while still providing a wide scope of options that make it versatile. Its only drawback is the fact that it may not have some of the additional features that are packaged in with some recorders, but that is by design in order to preserve its light and focused outlook.
If you're interested in trying out Movavi Screen Recorder for Mac you should click here and download it for yourself. Because of how easy it is to use you don't need any prior experience, and can simply start using it and acclimatize yourself to its interface and controls in no time. All in all it is a screen recorder that won't disappoint, and will allow you to record the footage that you need from your screen so you can save online videos, video calls, or create content of your own.
Related posts: