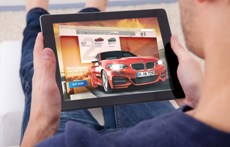 Are you selling cars online? The auto industry has been one of the last holdouts to resist retail's shift to online sales. The brick-and-mortar store has proven resilient in the face of rising online sales. A study by RetailDive shows that the majority of shoppers choose physical locations over online shopping because they want to "see and try out" products. There will always be a need for car dealerships where drivers can kick the tires, take a model out for a test drive, and shake hands with the dealer.
But if you're not taking measures now to sell more online, your competitors will leave you behind. The percentage of cars sold online is rising and some predict that 10 percent of all vehicles will be sold online by 2019, and dealerships are getting ever-closer to completing transactions 100% online. Even those who still head to the dealership to finish the deal are spending more time online researching:
59% of shoppers' research time is online
46% of shoppers use multiple devices
78% of shoppers use third-party sites
71% research prices and 46% are searching for dealers
22% now use social media to look for a car
When dealer chat company Gubagoo announced its partnership with Facebook to handle its clients' inventory on Facebook Marketplace, people took notice. The company is already known for providing dealer chat that integrates closely with dealerships through their RESQ app. In addition to finding leads and uploading them into dealer CRMs, Gubagoo live chat lets dealer sales members monitor chats and get involved when customers want to start negotiating.
Now they can use their dealer chat solution to operate Facebook Marketplace for them, listing their inventory on the social media marketplace platform and integrating their dealer chat into Facebook Messenger. Customers who want to know more about new or used models don't have to leave Facebook to engage with dealerships. Creating a seamless way to talk to the dealership is a better way to generate sales.
In the past, dealer chat was focused exclusively on generating leads. It's still one of the most effective ways to convert web traffic into qualified leads, but dealer chat platforms are increasingly moving into online sales. With no limit to the number of vehicles any dealership can place on Facebook Marketplace, dealerships have even more opportunities to expand their online presence.
In today's marketplace, if you want to find and retain new customers for your dealership, you need a bigger online presence. That means a 24/7 live chat on your website, more information on your website and a better user experience, cars listed on Facebook Marketplace, and dealer chat integrated with Facebook Messenger. You need to be able to talk to your customers any time of the day or night, whenever they want to get in touch with you. Fully managed, app-integrated, Facebook-savvy dealer chat is the way to sell cars and find new leads in the future.