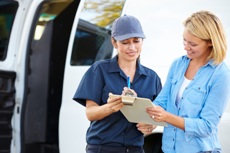 With an increase in online shopping and people searching for more convenient ways to send and receive goods, there has never been a better time to start a courier business. However, with large national and international firms, there can be a lot of tough competition for new businesses.
In addition to a strong digital marketing strategy, to build a successful courier business like Tuffnels, you must also consider these points.
Define Business Services
As a new business, you will have a small fleet of vehicles and limited numbers of staff. This means you will need to be realistic about what your company is able to offer. Would you like to specialise in shipping specialist items, or more general courier services? Can you afford to offer next-day or expedited services? Should you stay local or can you expand nationally? Answer these questions to help you define and deliver a range of efficient services.
Account for Variation
Like many other industries, courier businesses often go through cycles. This can mean that work may be inconsistent, with certain times of the year much busier than others. Account for this variation to ensure that your courier company has adequate cash flow to account for these periods.
Protect with Insurance
Working in the courier industry, your business needs to be protected against potential risks by a variety of insurances. This includes public liability, cover for shipments in case of damage or loss, and employer's insurance to cover your company's staff. You must also make sure that all vehicles and drivers have the appropriate business insurance.
Vehicle Types
With air pollution linked to thousands of premature deaths per year, in 2017, it was announced that the sale of diesel cars would be banned by 2020. However, Oxford will be banning diesel cars from 2020 in a bid to boost air quality. This means your choice of fleet is paramount. Thankfully, there are alternatives. The British government have introduced a Plug-in Grant that reduces the purchase price of hybrid and electric vehicles. This could also save you from having to replace vehicles further down the line.
Additional Equipment
To operate a successful courier business, it takes more than just the right vehicles. Depending on the type and size of parcels and objects your company will transport, you may need additional equipment. This could include racks, trolleys and hydraulic lifts. This will ensure safe handling, preventing employees from becoming injured, and reducing the chance that items will be damaged in transit.
Each of these areas is essential to creating a courier start-up that has long-term potential and lends itself to growth. To grow, your business will need healthy cash flow, a solid marketing plan, and a strong reputation. Follow the steps above to help your new courier venture expand and build a company that can compete against industry leaders.