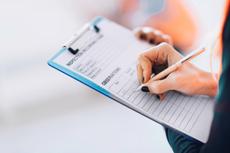 Workplace inspections are the best method to ensure that your business is meeting safety standards. Simple and effective, they cover both procedures and the physical environment, identifying risks and allowing you to address them. Failure to spend some time and effort now in performing inspection can lead to much bigger issues with potential for great financial loss.
Why Do They Matter?
Inspections are important because they can help prevent incidents. They allow you to discover and fix problems before they develop further. Additionally, some inspection types are a legal requirement, so it is vital to know which apply to your business.
How Often Should They Be Completed?
How regularly they are performed depends on the type of inspection and the nature of the workplace. Clearly, an industrial business will generally require more frequent inspections than one office-based. However, it is important not to become complacent if you are in a lower-risk sector – as you will see below, most workplace injuries are caused by things more commonplace than heavy machinery.
You may also decide to change the regularity of inspections based on your experiences. For example, if your inspections are frequently discovering problems, then it may mean you need to complete them more often.
Financial Benefits
Whilst workplace inspections cost some time and money, they can lead to savings in the long run.
Firstly, illness and injuries to your employees can have a negative effect on productivity. Minor injuries require time to be cared for, and major injuries and illnesses can stop them from working for days. According to the HSE (The Health and Safety Executive), 31.2 million working days were lost due to work-related injury and illness in Great Britain in 2016/17.
Secondly, accidents can result in a direct cost to the business. For instance, they can lead to higher workers compensation premiums. Furthermore, if regulations are breached it may lead to large fines, the severity of which have recently increased. Statistics from the HSE showed that the average penalty doubled to around £126,000 in 2016/17, compared to the previous year.
Common Types of Inspection
Fire Inspections
We are all familiar with fire drills, however, fire safety goes beyond speedy evacuations. Fortunately, fire inspections are often a matter of common sense. This can include things as simple as ensuring that alarm systems are working, escape routes are clear there are adequate numbers of fire extinguishers. The exact requirements will vary greatly depending on factors such as the size and layout of the building, the number of employees, and the nature of your business.
Electrical Inspections
Most offices will now have high value electronic equipment, so it is in an owner's interest that they are maintained properly. In addition, equipment such as laptops and kettles are used daily and frequently by the workforce, and they should be inspected to check there are no hazards in using them.
To check how safe electrical equipment is, most businesses carry out a yearly professional inspection called PAT Testing. Often, equipment including Fluke testers, are used to find any potential electrical dangers that may be present.
Trip hazard inspections
Torn carpets, trailing cables and wet floors may seem like comparatively minor issues, but the HSE reported that slips, trips and falls are one of the most common causes of injury at work, accounting for 18% in 2016/17.
Yet, arguably they are also one of the easiest to prevent, as most of the risks are visible or predictable, providing procedures are followed. Inexpensive and easy to implement measures, such as installing cable covers, can make all the difference.
Manual handling inspections
Handling, lifting or carrying injuries were the most common workplace injury in the last year. It is not just in the construction industry where handling injuries can occur, with heavy or bulky items, such as computer chairs, monitors and desks found in most offices. In many cases these injuries can be prevented by basic manual handling training, although for the heaviest loads specialised equipment may be necessary.
After the Inspections
After completing an inspection, it is important to put in place a plan to resolve any issues found. The urgency required will depend on the severity of the problem, but generally it is best to introduce a fix, even if temporary, as soon as possible.
It can also be important that feedback is given as to why changes have been made. This will mean staff are more likely to highlight any ongoing problems and to follow new procedures, preventing the issue from recurring in the future.