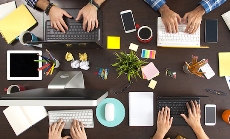 The workplace as we knew it just 10 years ago is changing dramatically with the inclusion of Generation X in the workforce and the rise of technology. This generation grew up with technology. It has become an integral part of their personal and business lives. Just look around in the office, or in a nearby Starbucks, and you will find technology embedded in everything people do. Technology allows us to work from anywhere and anytime. Businesses that do not take advantage of this revolution stand to lose in this hypercompetitive world. So, how exactly can technology help you manage your business better?
Collaboration – Ability to communicate with anyone, anywhere and anytime makes collaborating with your colleagues easier. Gone are the days when you had to tether yourself to the office chair in a conference room to participate in the meeting. With the help of a tablet you can join your colleagues from halfway across the world. Many companies such as Konica Minolta have introduced technology solutions such as Virtual Care Management and Team Meeting Room Management that help with collaborating with colleagues.
Flexibility – It used to be that you were expected to be in the office from 8am to 5pm as part of your job responsibility. You were not allowed to work from home or go home early and catch up on the work from your laptop. Newer technology solutions enable you to not only work from home, but also allow you to not miss the office beat by enabling you to virtually transport yourself into the office environment. The Telepresence robots provide a real presence in the office.
Efficiency – Advanced technology solutions have allowed many tasks to be automated or be carried out in a fraction of time it used to take with little effort. In the office environment deployment of solutions such as virtual assistants and registration systems enable front end receptionists to do other productive tasks by managing visitors more efficiently.
Improvement in technology solutions will continue to drive businesses to higher levels, as long as they are able to take advantage of these innovations.
This post has been sponsored by Konica Minolta. All opinions are my own.