Sponsored Post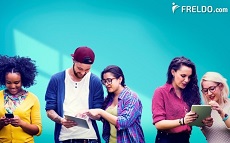 For small business owners one of the most important tactics to attract new customers is to encourage existing customers to recommend their services and products to their friends. What can be better than having someone who just tried your services tell their 10 other friends about great experience they had? Word-of-mouth is one of the most effective and inexpensive ways to reach new customers and grow your business. The reason word-of-mouth is so powerful is the trusted relationship that exists between the people recommending the service and their friends and family members.
Internet provides a medium by which customers can provide recommendation easily. However, one of the pressing issues with marketing and social relationship on Internet is the anonymity it provides. As they say jokingly nobody knows you are a dog on the Internet. While it is easy to find hundreds of plumbers with a click of a button, finding a reliable one that you can trust is not easy.
What if there was a way for your customers to recommend your services to their friends and family members with the ease of a button, and earn money while doing it? This is word-of-mouth marketing taken to the next level! Business owners can get the benefit of trusted, inexpensive marketing, while their loyal customers can make money doing it.
A company called Freldo is doing just that. They have built a business social network that brings together businesses and customers under one platform. The idea is to build a trusted community where anyone can participate to recommend a business, while at the same time be able to find a trusted business based on the recommendation of friends. Freldo is a closed network where you can limit your circle to the friends you know and trust well. You are still able to build new friends based on the recommendations of existing ones.
You can participate in the network by recommending the businesses you have received services from, while also finding the businesses for services you need based on the recommendations of your friends. Businesses can also provide incentives to you when you recommend their services to your friends. As you can see the benefit of Freldo is to build a closed social network where people know and trust their friends and businesses they work with. Businesses can tap into the power of this social network by providing incentives and, in turn, sign up new customers to grow their business.
Freldo platform is currently available on desktop. The company is in the process of building a mobile app that will allow individuals and businesses to use it from anywhere, anytime. The mobile app will also allow businesses to accept customer orders from their smartphones. It will allow customers to pay with the phone with ease of use.
Freldo is looking for funding to develop the mobile app and have started a Kickstarter campaign. Everyone who supports the campaign will get special Freldo certificates up to 10,000 points which can be used in Freldo network. You can receive additional bonus by pledging higher amount in the campaign.
Freldo overcomes one of the most pressing challenges of online marketing by building trust between individuals and businesses, allowing customers to buy services from a trusted vendor and enabling businesses to attract new customers by word-of-mouth.