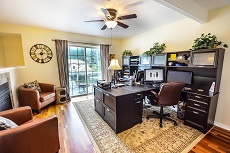 If you work at home frequently you probably considered making a comfortable working space. You deserve more than just a metal desk and an extra chair somewhere stuffed into a corner. An office that reflects the design and comfort of the rest of your home makes you not only more productive, but it could also inspire you. Below we outline 4 tips for making a comfortable and inspiring working space.
Location
If you spend a lot of hours in your home office, don't stiff yourself on space (e.g., squishing yourself in a tiny room, with not windows and probably between a lot of mess). Think of moments when you are the most productive, is that in a quite space or is that in a room with a lot of activity? If you have clients coming over than a quite private space is a must.
Invest in working space furniture
Don't sacrifice form for function. Does your home office consist of furniture that does not complement other rooms in your house and screams "soulless cubicle!"? you definitely need a make-over. Try to use features from your home for your working space, for example, if your house consists of traditional furniture such as comfy chairs, wooden tables, then use these features in your working space office. Try to keep your office in line with the design of your house. Besides, don't be to cheap when buying a table or chair for your working office. You spend a lot of time in your chair, and therefore it is of importance to invest in a great chair, that is not only fashionable, but also comfortable and ergonomically-correct. Moreover, paint your office space in any color except "beige". It should inspire you, and not depress you. Find out what colours affect your, calming colours such as aqua blue or light green. Also, a view in your office is very important, hang up a pretty picture, or even better make sure your office has a window to look out from.
Use the right lightning
Another very important aspect is the lighting in your working space. Make sure your office gets plenty of light, preferably from the sun. This prevents you from getting a headache from your computer screen and sunshine is very important for your productivity. If your office doesn't let any sunshine in, you could put a small lamp on your desk or a standing lamp in the corner.
Try to personalize it
Your office space could be very inspiring and nice place to work at, but personalizing it makes it a place you really want to work at. Try to personalize it with special photos from your family or friends, place a piece of art or some special things that your children made for you. The essence is that you create a space you feel at home and comfortable at.
More information about working remotely or creating the best home office space? Visit the website of onlyremotejobs.