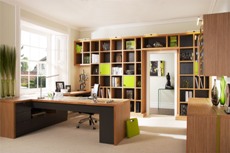 Everyone has a different idea of the 'perfect' working environment. Some prefer quiet, some like music. Some like a cold temperature, whilst others prefer a warmer room.
When you work from home, there are even more distractions than normal that stop you from getting your work done. Whether this be the children, the television, or just the food for your lunch you've been thinking of all morning, there are definite benefits to working in an office.
So how can you make your home workspace a nicer place to work in that will also make you more productive?